News
Viper Venom RGB DDR5 2x16GB 6200MHz @ LanOC Reviews
Published:
Tuesday, May 3, 2022

| Posted By:

Dennis
DDR5 was in short supply when it launched with Alder Lake which has prompted memory makers to re-think how they position their DDR5 products. Patriot Viper has decided to release the halo version at 6200Mhz in hopes of taking advantage of the extra performance.
LanOC has a review of the new Viper Venom and we will have our review launched later this week.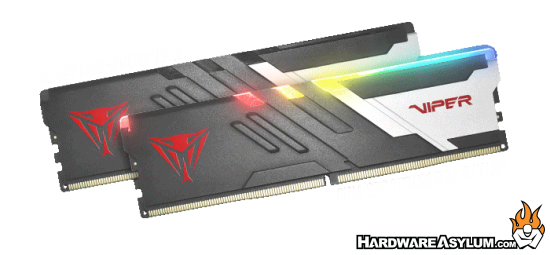 With Intel's 12th generation Core CPU launch alongside the new CPUs, CPU Socket, and Motherboards/Chipset it also brought DDR5 into the mainstream market. Initially, DDR5 was hard to come by, but things have gotten better and along with that we are seeing some of the companies who didn't have memory available at the launch getting their kits introduced. A good example of that is Patriot with their Viper Gaming lineups first DDR5 kits. They have named the new kits Venom which goes well when you combine it with the Viper branding. They have standard and RGB kits available and the kit that they sent over for us to check out is the Viper Venom RGB in a 2x16GB configuration running at 6200 MHz.
What kind of performance could you get from modules like this??
Related Web URL: https://lanoc.org/review/pc-hardware/8485-viper-ve...
comments powered by

Disqus