News
Thermaltake SWAFAN 12/ 14 RGB
Published:
Thursday, August 18, 2022

| Posted By:

Dennis
First Swappable Fan Blade Design by Thermaltake Now Available for Purchase
Taipei, Taiwan-August 18th, 2022-Thermaltake , the leading PC DIY premium brand for Case, Cooling, Gaming peripherals, and enthusiast memory solutions, is delighted to announce the first-ever swappable fan blade design here at Thermaltake, SWAFAN 12/14 RGB Radiator Fan is available for purchase now. One of the most prominent highlights of SWAFANs is that it has two types of fan blades that are swappable, not only enabling users to orient the airflow direction depending on however they like it but, meanwhile, providing glorious full RGB lighting of the fan. From tech lovers, pc builders, pc enthusiasts to modders, we can all appreciate how functionally capable this design is and take full advantage of its convenience. Let's take a look at more details on SWAFAN 12/ 14 RGB below.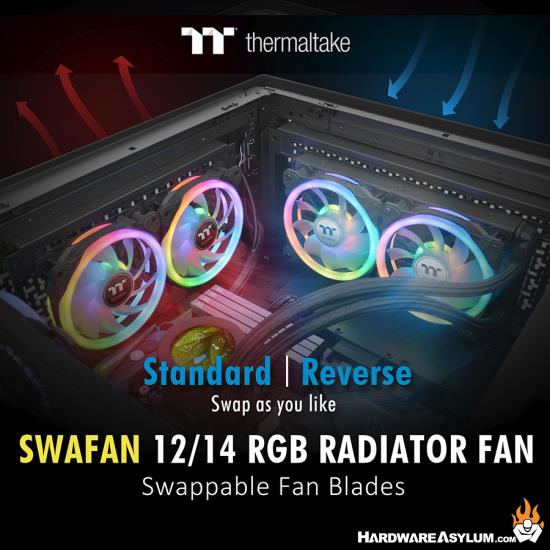 SWAFAN 12/ 14 RGB Radiator Fan's name originates from "swap fan;" It features a swappable fan blade design, which provides more flexibility while building a PC since users can adjust the airflow direction by simply swapping out the fan blades enclosed in the package. As we continue to push boundaries and redefine the perfect user experience, we came up with this incredibly brilliant design, enabling users to build, test, and adjust the airflow orientation simultaneously and achieve the most optimal in-case airflow without unscrewing the installed fans every single time. Other than that, it is effortless for users to clean the fan blades by merely popping them out. Thus, this can save users so much time so they can spend their valuable time on things that matter to them. On top of that, we enclose a bearing lubricant for you to take care of your fan after multiple swaps.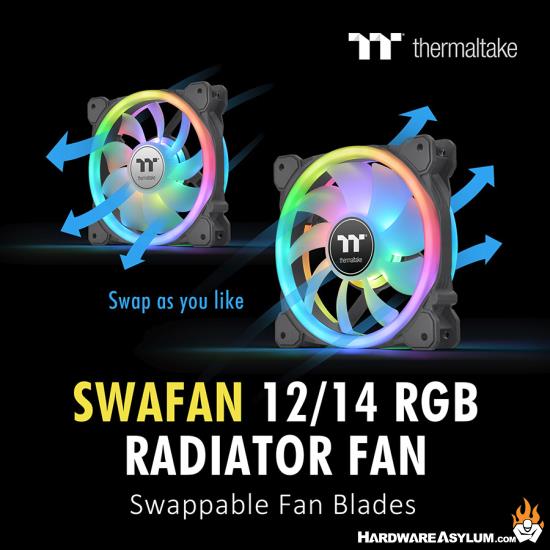 For cooling performance, SWAFAN 12/ 14 RGB is no slouch, it comes with a powerful PWM-controlled fan that features a unique 9-fan blade design, which was deliberately engineered to generate high air pressure while keeping a large amount of airflow for both fan blades. It also has an enhanced fan speed of up to 2000 RPM, ensuring its impeccable competency in terms of cooling performance. Spectacular RGB lighting effects are the icing on the cake to suffice your need for aesthetics, providing three addressable LED rings with 30 ultra-bright LEDs in total with a coverage of 16.8 million uniformity colors. SWAFAN 12/ 14 RGB also adopts the latest 4th generation software controller, which brings an uninterrupted connection between RGB Software and components. Plus, light effects can be easily tweaked to your satisfaction through NeonMaker software or TT RGB Plus 2.0 to choose stunning RGB lighting effects that suit you.
To summarize, with incredible swappable fan blade design, easily customizable lighting effects, and amazing cooling performance, SWAFAN 12/ 14 RGB is ideal for any system you plan to build and it is in stock for purchase now.
For more information on Thermaltake SWAFAN 12/ 14 RGB, please visit:
SWAFAN 12:www.thermaltake.com/swafan-12-rgb-radiator-fan-3-fan-pack.html
SWAFAN 14: www.thermaltake.com/swafan-14-rgb-radiator-fan-3-fan-pack.html
comments powered by

Disqus