News
Thermaltake Presents a New Lineup of CTE (Centralized Thermal Efficiency) PC Chassis
Published:
Saturday, January 14, 2023

| Posted By:

Dennis
A Leap-ahead in thermal solution design and heat dissipation through increased chassis ventilation
Walnut, California - January 5th, 2023 - Thermaltake - the premium brand for PC Case, Cooling, Power, and memory solutions, is proud to introduce its brand-new CTE (Centralized Thermal Efficiency) lineup of PC cases and will be showcased during CES 2023. Thermaltake's CTE series PC chassis is crafted to offer optimal thermal performance and heat dissipation through increased chassis ventilation. The CTE chassis will be available in three different models and include both TG and Air-focused panels, offering a choice of cosmetic options. Additionally, with the optimization for air, AIO/DIY Liquid cooling, the CTE lineup is intended to deliver a high degree of thermal performance to support the latest graphics cards in the market and future high-performance gaming PC builds.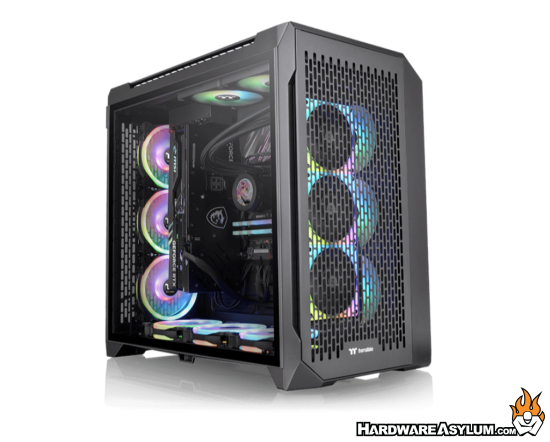 Key Features of the CTE Series:
90 Degree Rotation of the motherboard provides more efficient airflow pathways.
Full Mesh Airflow and TG Panel options are available.
Increased Efficiency for Cold Air intake and heat extraction.
Multiple AIO and LCS radiator mounting locations support up to 420mm.
Patented rotational PCI-E slots to display graphics cards horizontally or vertically.
New CT Series Fans are available in black or white and RGB or non-RGB, with new housings.

The new CTE technology by Thermaltake broke through the conventional chassis design with its reformatted internal arrangement. It was created from the ground up with the ever-increasing need for thermal efficiency. This approach provides a robust and efficient airflow path inside the chassis by moving critical heat sources closer to intake and offering a more efficient exhaust path. Furthermore, the abundance of mounting locations for cooling fans and AIO/DIY radiators, up to 420mm in sizing, make the CTE series ideal for all types of cooling, whether water or air. The overall approach has allowed CTE to offer a better and more efficient solution while still providing users with a large amount of customization for building and modding to create unique works of art.
With the CTE lineup are the all-new CT series fans, available in both 120mm and 140mm, black or white, and with or without RGB for build compatibility. The CT series fans feature a new-generation PWM motor and hydraulic bearing for unprecedented reliability, combined with a unique blade design to push the air further than a traditional fan, even at speeds under 1500 RPM.
Availability
The CTE series will be available in major retailers starting April 2023
Models
C750 Air/C750 TG ARGB, C700 Air/C700 TG ARGB, T500 Air/T500 TG ARGB
comments powered by

Disqus