News
YEYIAN Gaming Presents the Ultrawide 34" 2K SIGURD 4000 Curved Gaming Monitor
Published:
Tuesday, January 31, 2023

| Posted By:

Dennis
VA Panel with 165Hz refresh rate, HDR400, and adaptive-Sync technology fully compatible with AMD FreeSync and NVidia G-Sync
San Diego, California, Jan 31, 2023 - YEYIAN Gaming, a global leader in the design and manufacturing of innovative pre-built gaming PCs, peripherals, and computer components, is proud to announce the market launch of the latest YEYIAN Ultrawide 34" 2K SIGURD 4000 WQHD curved gaming monitor (sku: YMC-VA34-01). YEYIAN SIGURD 4000 is an ultra-thin bezel design with WQHD resolution, delivering excellent resolution and brightness on a LED VA panel with a 3000:1 contrast ratio. It provides gamer-oriented features, including six scenarios presets for optimized screen settings when playing games, watching movies, and a standard text display.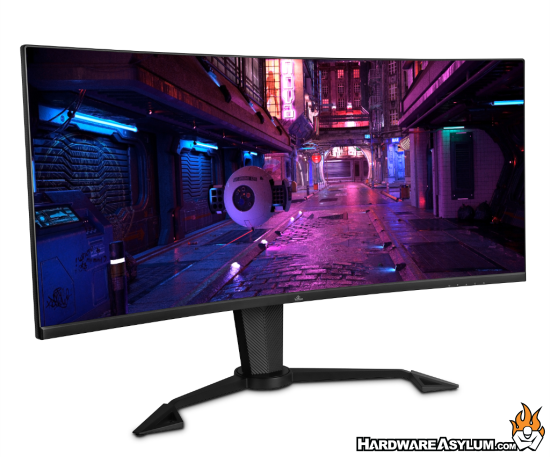 The Adaptive-Sync technology is fully compatible with AMD FreeSync and NVidia G-Sync to ensure every frame is displayed correctly without artifacts or tearing. The monitor is also built using an advanced HDR processing chip to offer more than 16.7 million colors in a higher dynamic range and a broader color gamut for vivid gaming graphic visibility. A 1ms response time combined with a 165Hz refresh rate and Low Blue Light technology ensures that the YEYIAN 34" SIGURD 4000 2K can deliver superior gaming performance for hardcore gaming sessions and content creation.
"The brand-new Ultrawide 34" 2K SIGURD 4000 Curved Gaming Monitor is another masterpiece from YEYIAN. The monitor is built with an advanced VA panel for excellent response time, refresh rate, color accuracy, and performance across a wider range of viewing angles. It was born to bring an immersive panoramic viewing experience with a rock-solid built quality.



Large monitors like our 34" curved ultrawide panel help maintain a high degree of immersion in games and other forms of visual entertainment. Adaptive-Sync technologies such as FreeSync, and G-Sync help to maintain the best visual performance, while YEYIAN's Low Blue Light Technology intends to soothe eye strain for longer and more enjoyable viewing sessions. The YEYIAN SIGURD 4000 also supports showing two different visual sources simultaneously using PIP (Picture-in-Picture) and PBP (Picture-by-Picture) technologies. These practical features are intended to provide the best gaming experience by protecting the gamer and offering comfortable and long-lasting gaming sessions, making it a great monitor for gamers and content creators." explained Frank Lee, the VP of YEYIAN.
Screen tearing is a common annoyance for gamers who love fast-paced FPS and 3D Open World Games. These visual deformations are common with LED panels when the monitor refresh rate differs from the signals sent by the video card. The 34" SIGURD 4000 2K curved gaming monitors feature built-in Adaptive-Sync Technology. It fully supports AMD FreeSync and NVidia G-Sync, allowing AMD or NVidia GPU users to experience a low latency, low flickering, tearing-free, and fast-responding gaming experience. These adaptive-sync technologies also offer frame rate compensation to eliminate unexpected blur motion during movies or high-resolution gaming.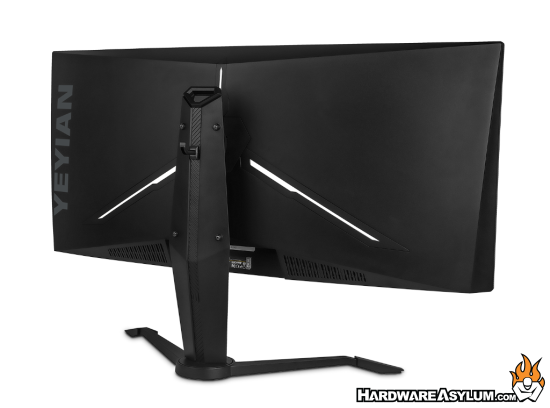 The monitor supports the latest DisplayPort 1.4 x 2 and HDMI 2.0 x 2 for full compatibility with current and future video cards and consoles. The YEYIAN SIGURG 4000 monitor has six preset scenarios: Movie, RTS, FPS, Text, Standard, and general games. These optimized-display screens allow the user to change the monitor settings with a single key press dynamically. The PIP and PBP functions also allow the user options to display two separate visual signals at the same time simultaneously; the real-time videos from their game console and game desktop/laptop can be shared on the same monitor.
The ergonomic design provides a wide angle of tilt and swivels for an ideal viewing position and to prevent users from neck and shoulder discomfort. The tilt angle can allow 5° to the front and 15° to the back. These significant features allow you to work on documents, watch movies, or play games longer and more comfortably.
Backed by a 3-year warranty, the YEYIAN Ultrawide 2K SIGURD 4000 34-inch Curved Gaming Monitor is now available in major US e-tailers.
Availability:
Related Web URL: https://us.yeyiangaming.com/yeyian-34-ultra-wide-2...
comments powered by

Disqus