News
VIPER Gaming launches VIPER VENOM RGB and non-RGB DDR5 Performance Memory Kits
Published:
Wednesday, May 4, 2022

| Posted By:

Dennis
Absolute gaming advantage- DDR5 memory delivers outstanding performance, stability, and overclocking potential with the latest PMIC support. The VIPER VENOM RGB and Non-RGB SKUs are now available with frequencies from 5200 MHz to 6200MHz.
FREMONT, CALIFORNIA — April 28th, 2022 — Viper™, the trademarked gaming brand of PATRIOT™ and a global leader in performance memory, solid-state drives, and flash storage solutions today is proud to announce the market launch of their new VIPER VENOM RGB and non-RGB DDR5 high-performance DRAM memory kits. These brand-new VIPER VENOM DDR5 memory kits are available with and without the RGB illumination, it provides enhanced speeds ranging up to 6200MHz with kit capacities of 16GB-32GB to meet the harsh demand for PC enthusiasts and hardcore gamers.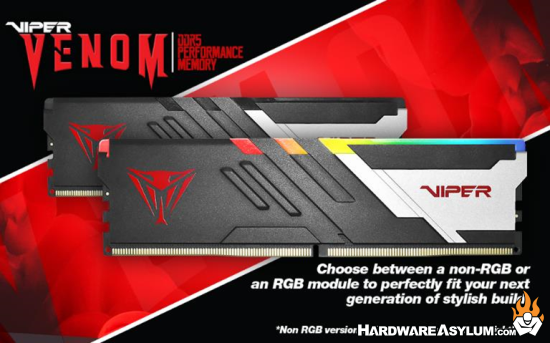 "Our VIPER Gaming fans waited quite a while for quality DDR5. The VIPER VENOM DDR5 is the first DDR5 DRAM that we distributed for hardware enthusiasts, hardcore gamers, and case modders addicted to unparalleled system performance and stability. VIPER's engineering team has put countless efforts to guarantee excellent compatibility and higher reliability across Intel®'s latest platforms, currently." said Roger Shinmoto, Vice President of VIPER GAMING. "Our first launch of Venom DDR5 on 4/28 will feature the highest frequency version at 6200MHz. We hope the enthusiasts or overclockers be able to experience the physical power of Viper Venom DDR5 at the market launch. However, due to the global shortage of memory chips, we have decided to launch the mainstream frequency models like 5200/5600/6000MHz sometime in the coming months." He added.
The VIPER VENOM DDR5 memory kits include the RGB and Non-RGB versions. The new design of the VENOM heatshield combines the unique RGB light bar and custom aluminum heat spreader featuring matte black/silver patterned graphics. The high-quality modules feature a built-in thermal sensor for performance monitoring, while the excellent heat dissipation helps prevent the hazard of overheating. The physical height of the module can avoid interference with most CPU coolers on the market. In addition, the RGB light bar is an entirely new design with updated synchronization software and illumination patterns. Most importantly, all VENOM RGB DDR5 modules are 100% compatible with ASUS, ASROCK, GIGABYTE, and MSI's latest motherboards and can be synced with their RGB systems.
The unique architecture of DDR5 memory features localized voltage adjustments based on a locked/unlocked PMIC (Power Management Integrated Circuit) and SPD HUB (Serial Presence Detection), which can provide simultaneous monitoring, and threshold protection, intelligent voltage control, and power management to achieve more comprehensive voltage control. Moreover, the on-die ECC function enables active error correction to improve data integrity and enhance performance and stability. The VIPER VENOM DDR5 memory kit supports the latest® Intel XMP 3.0 profile overclocking and delivers precision and stability to easily customize the performance to match specific overclocking tasks. Each module is built using a ten-layer PCB and strictly sorted ICs to offer excellent signal integrity and unmatched reliability to the system performance.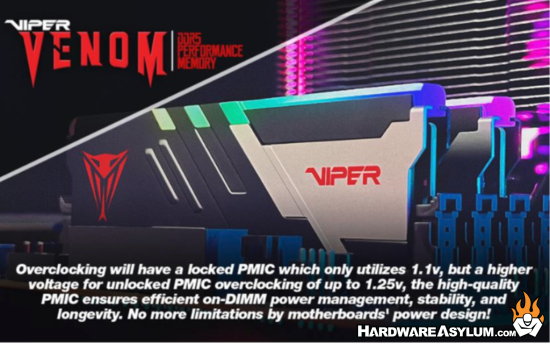 The VIPER VENOM DDR5 memory kits are now available in major US retailers with RGB and Non-RGB models and are backed by the VIPER limited lifetime warranty.
Availability
Amazon.com
Venom 32GB (2 x 16GB) 6200MHz UDIMM
Newegg: https://bit.ly/3KZwoOB
comments powered by

Disqus