News
Streacom DA6 Open Frame SFF Case
Published:
Wednesday, June 1, 2022

| Posted By:

Dennis
The great thing about building computers is deciding what chassis to buy. Since I still build full sized ATX computers I prefer to have a larger chassis to hold my watercooling gear while giving me enough air volume for proper cooling. For others, there could be space constraints so choosing a chassis could require some additional checks and adjustments to internal components.
I have noticed a dangerous trend in chassis design that has migrated away from the traditional box to a more open designs, sometimes with tempered glass and others with carbon fiber. The scary part is that many of these designs have no real design. For instance the designer might be trying to replicate the electric bike hobby they have been consumed with while others are simply trying to improve on something they are impressed with.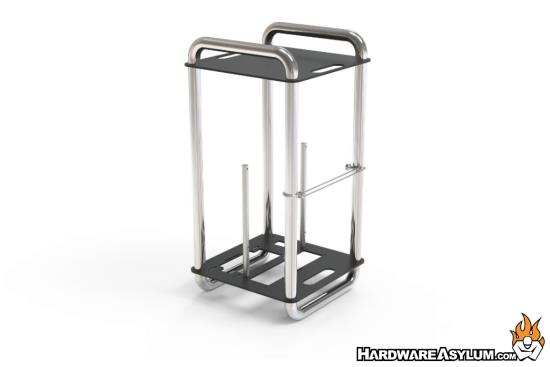 The new DA6 from Streamcom is interesting in that I can see a number of external influences. For instance the vertical Mini ITX design reminds me of the SilverStone FT03-MINI while the bars remind me of something In-Win did some 10 years ago with the D-Frame 2.0. Together they look pretty good but also resemble a chrome kitchen chair from the 60's
With the DA6 we have an open-air chassis design that has all of the components in a vertical orientation. This helps to save space and does give the chassis a nice curb appeal. You'll get two handles at the top due to the looping pipes and full open-air cooling. There are no provisions for external storage. As Streamcom has correctly assumed, the advent of NVMe storage as removed any need for SATA drives on the Mini ITX platform.
I have used open air test benches for many years and while they are amazing for testing out hardware platforms they are horrid at cooling and often require additional fans to ensure that cooler air is always moving across the components. It would appear that you get provisions for a single external cooling fan which, should be just enough.
Check out the DA6 on the Streamcom website, Link is below
Related Web URL: https://streacom.com/news/company/da6-product-anno...
comments powered by

Disqus