After careful consideration I have decided to transfer all hardware review activities to a new domain. I purchased Hardwareasylum.com in 2012 and have been working hard to build a new and improved Ninjalane on that domain. If you are reading this you have reached one of the archived articles, news, projects and/or reviews that were left behind during the site migration.
Please update your bookmarks and be sure to visit the new and improved Ninjalane at Hardwareasylum.com
Gigabyte Aivia K8100 Gaming Keyboard Review
Gigabyte Aivia K8100 Gaming Keyboard Review
Author:

Will West
Published:
Monday, January 24, 2011

Introduction
Every time you hear the demise of PC Gaming along comes a new gadget or feature to change everything, this is one reason why the PC will always be the best platform. Not only do we get Xbox controller support in games but a huge inventory of keyboards and mice to enhance our gaming experience.

Today we have the opportunity to look at a gaming keyboard from none other than Gigabyte. Gigabyte is one of the top players in the motherboard manufacturing arena and is always looking for new markets to target their products to. With a gaming keyboard Gigabyte is competing with other well known manufacturers, the most notable being Logitech and their highly renowned G series.
The Gigabyte Aivia K8100 is based on the idea of a standard keyboard with additional features specific for gaming. It comes with flat black finish and extremely long and comfortable wrist rest area. The overall size of the Aivia K8100 is much larger than the most keyboards, but not nearly as big as the original G15 series keyboard.
Gigabyte includes a silicon keyboard cover to help protect the keyboard from anything nasty when not in use. The keyboard follows the standard layout we all have grown accustomed to. This is rather important considering we all tend to do things on our PCs outside of the gaming environment.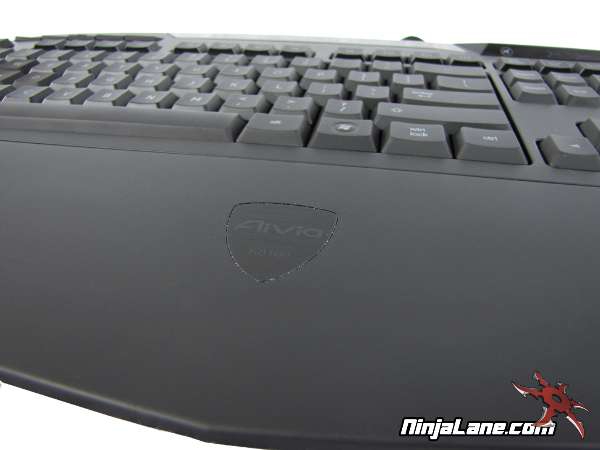 The keys on the Aivia K8100 are shorter in height than some of the other gaming keyboards on the market and do take some time to get used to. However once the learning curve is over they key presses feel very natural.