After careful consideration I have decided to transfer all hardware review activities to a new domain. I purchased Hardwareasylum.com in 2012 and have been working hard to build a new and improved Ninjalane on that domain. If you are reading this you have reached one of the archived articles, news, projects and/or reviews that were left behind during the site migration.
Please update your bookmarks and be sure to visit the new and improved Ninjalane at Hardwareasylum.com
DFI BloodIron G41-T33 Motherboard Review
DFI BloodIron G41-T33 Motherboard Review
Author:

Dennis Garcia
Published:
Friday, October 09, 2009

Introduction
The one interesting thing about reviewing high-end enthusiast and gaming hardware is that you miss out on some of the great mainstream hardware offerings. In fact enthusiast hardware makes up almost 90% of the hardware reviews you find on the Internet, and are only used by 2% of the computer community. The other 98% either build budget systems part by part or resort to pre-built OEM style computers.

So what kind of hardware is there for a person building a system on a budget?

In this review we will be looking at the DFI BloodIron G41-T33 motherboard, for those of you that didn't know the BloodIron is actually part of the LanParty series and positioned at the low end of the spectrum. The idea behind this series is to provide the same high quality hardware found on the high end LanParty boards at a fraction of the cost and features.

The only downside to "mainstream" motherboards is the amount of competition there is, every motherboard maker has products positioned in this space but often use their high-end products to help sell the entire product line.
The DFI BloodIron G41 is a MicroATX motherboard based on the Intel G41 chipset and features a sexy red PCB. This chipset supports the Intel 775 processor platform and comes with an onboard video controler.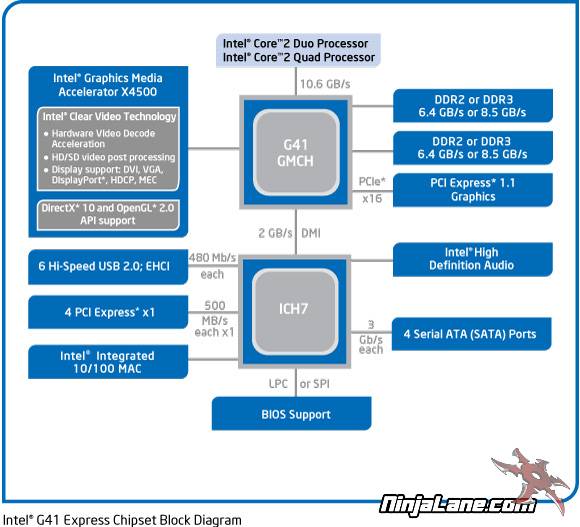 As a general rule of thumb if you are looking to build a gaming computer you want to try and avoid onboard graphics as much as possible. However the Intel X4500 Media Accelerator found in the G41 does come with some notable features.