After careful consideration I have decided to transfer all hardware review activities to a new domain. I purchased Hardwareasylum.com in 2012 and have been working hard to build a new and improved Ninjalane on that domain. If you are reading this you have reached one of the archived articles, news, projects and/or reviews that were left behind during the site migration.
Please update your bookmarks and be sure to visit the new and improved Ninjalane at Hardwareasylum.com
Foxconn BloodRage X58 Motherboard Preview
Foxconn BloodRage X58 Motherboard Preview
Author:

Dennis Garcia
Published:
Monday, January 26, 2009

Introduction
There are a few color combinations that for various reasons are destined to be together, Complementary colors (ie colors opposite on the color wheel) like blue/orange, red/green, yellow/purple make sense, they go well together but are pretty boring when it comes down to it. Some of the more epic color combos are not so well known and almost always involve black. Yellow/Black, Purple/Black and our favorite Red/Black all look nice together and pretty miuch go with anything .

A quick glance around Ninjalane reaffirms our love of Red and while the color isn't for everyone you cannot deny how popular Red has become.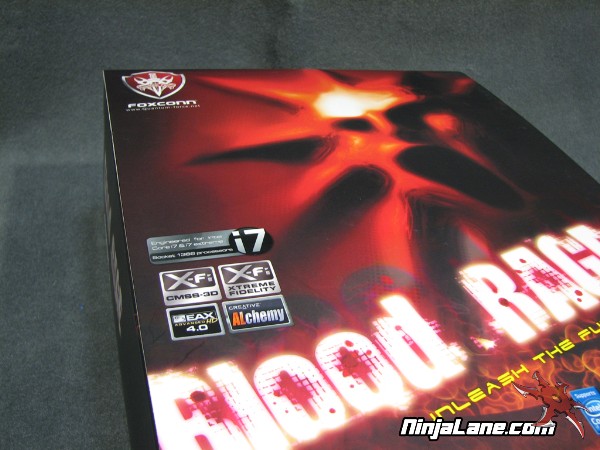 In this Motherboard preview we will be taking a first look at the newest motherboard from Foxconn called the BloodRage. BloodRage is a Quantum Force design and based on the new X58 chipset from Intel. As with all Quantum Force designs the BloodRage comes with a variety of features specific to the hardware enthusiast and overclocker.

Given our recent success with the Foxconn BlackOps we're really looking forward to seeing what the new BloodRage is capable of..