After careful consideration I have decided to transfer all hardware review activities to a new domain. I purchased Hardwareasylum.com in 2012 and have been working hard to build a new and improved Ninjalane on that domain. If you are reading this you have reached one of the archived articles, news, projects and/or reviews that were left behind during the site migration.
Please update your bookmarks and be sure to visit the new and improved Ninjalane at Hardwareasylum.com
Corsair TX750 750Watt Power Supply Review
Corsair TX750 750Watt Power Supply Review
Author:

Austin Hamann
Published:
Tuesday, August 19, 2008

Introduction
Power supplies are one of the few items that we don't normally review here at Ninjalane. A main reason being that for most people when they find a solid power supply stick with it until it gets maxed out, or fails. The power supply that a large consumer base stands behind is the Corsair 620 HX, which has recently proved to handle an astounding 791Watts with CrossFire 4870X2's and quad core setup. This is 171Watts above what it is rated to handle!

Corsair was nice enough to send over its bigger brother, the CMPSU-750TX 750Watt PSU for review. We expect only the best from this power supply, backed by Corsair and a 5-year warranty. We don't have the proper equipment to accurately conduct a PSU review so instead we will be focusing on the look and usability of this unit based on our long term testing and burn in process.
A fairly simple box design, it has some certifications and descriptions on the front with a photo of the PSU in the background. When you turn the box over you'll see what the power supply looks like, with a couple rather small images and a laundry list of specifications, certifications and various other technical information.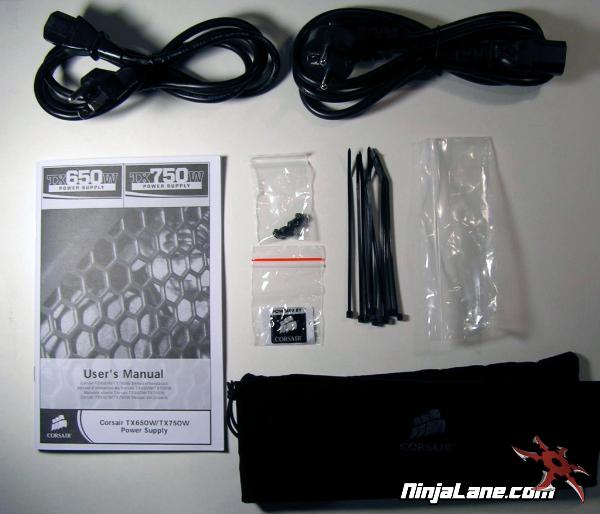 Corsair has included quite a bundle with the TX750 including the items seen here. You get a "Powered by Corsair" sticker, along with several (rather small) zip-ties, European and American AC adapters, and several gloss-black screws to compliment your installation. The interesting thing about hardware bundles is that you may or may not use everything in the box, but at least they are there.

The manual is very well written and includes instructions on using the PSU as a replacement or as a new PSU, features overall specs, warranty information, warnings, safety certifications, and even includes an introduction about Corsair power supplies. For those of you that need a different language the manual has 8 to choose from.

Finally, as an added bonus, the PSU comes inside a black velvet bag, which is only useful for transportation or storage, but is very nice to look at having Corsair logo in the center.
Specifications
AC Input
Operating Range: 90~264VAC, .99 Power Factor
Frequency: 47~63Hz
Current: 10A(115V), 5A(230V)
Efficiency: 80%+(81-87%) under 20%, 50%, and 100% load
DC Output
Output: +3.3V @ 30A, +5V @ 28A, +12V @ 60A, -12V @ 0.8A, +5VSB @ 3A
Max. Continuous Output = 750W
Max. Peak Output = 900W(720W @+12V, 180W @ +3.3V & +5V)
Regulation: 3%(+12V), 5%(+3.3V, +5V, +5Vsb), 10%(-12V)
Environmental
Operating Temperature: 0C to 50C
Humidity: 10%-90%
Fan Type: Double ball-bearing, Thermal controlled, 140mm fan
Safety Approval: UL, CUL, TUV, CE, FCC, CCC, CB, C-tick
Miscellaneous
Certifications: nvidia SLI, 80+ Certified
M/B Connectors: 20+4-pin, 4+4-pin ATX/EPS, 4 6+2-pin PCI-E
Drive Connectors: 18 (8 Molex, 8 SATA, 2 Floppy)
MTBF: 100,000 hours at 25C
Things to know: Active PFC, all Japanese Capacitors
Warranty: 5 year
EPS12V/ATX12V v2.2 & v2.01 compatible: yes