After careful consideration I have decided to transfer all hardware review activities to a new domain. I purchased Hardwareasylum.com in 2012 and have been working hard to build a new and improved Ninjalane on that domain. If you are reading this you have reached one of the archived articles, news, projects and/or reviews that were left behind during the site migration.
Please update your bookmarks and be sure to visit the new and improved Ninjalane at Hardwareasylum.com
XFX 5700 Ultra Dual DVI DDR3 Review
Author:

Dennis Garcia
Published:
Monday, May 24, 2004

Benchmarking Info
As to not waste any time lets jump into what most of you are here to see.
The system as it was tested
Abit IS7 (Springdale) GAT Enabled
Pentium 4 2.4C @ 3.0Ghz (1000Mhz FSB)
RBX Enabled Watercooler
2x Corsair TwinX PC3200LL 256Megs
IBM Hitachi Deskstar 80gig SerialATA 7200RPM
Hercules Gamesurround Fortissimo II
Antec 430watt power supply
12x/40x DVD/CDRom
Windows XP Professional Service Pack 1

nVidia - ForceWare 56.72
XFX FX 5700 Ultra 128Megs DDR3 (510/1020)
Gainward Ultra/960 DDR3 Golden Sample (500/1000)
Chaintech Apogee AA5700U 128Megs DDR2 (475/900)

For the purposes of the benchmarks the Gainward Ultra/960 was the only card using driver enhanced clock settings, the Chaintech AA5700U, though having an enhanced driver setting, is using the default FX5700U clock.

Unless otherwise noted all Anti-Aliasing and Anisotropic Filtering (AA/AF) was manually set via the display drivers. Since the 5700Ultra is an upper mid-range card 2x AA and AF was used on all cards in this review.

Below are the contenders.
Gainward Ultra/960 Golden Samp
Chaintech Apogee AA5700U 128me
.. And of course the XFX FX 5700 Ultra 128megs DDR3 pictured on the previous page.
Hardware and Driver settings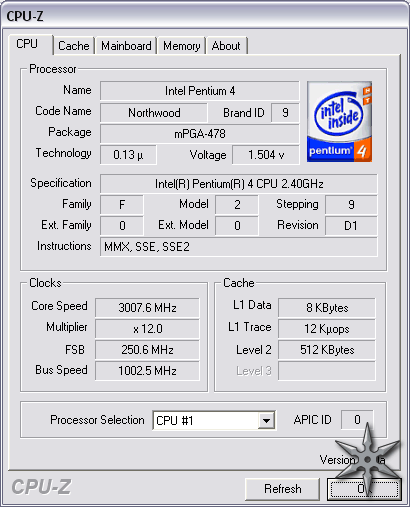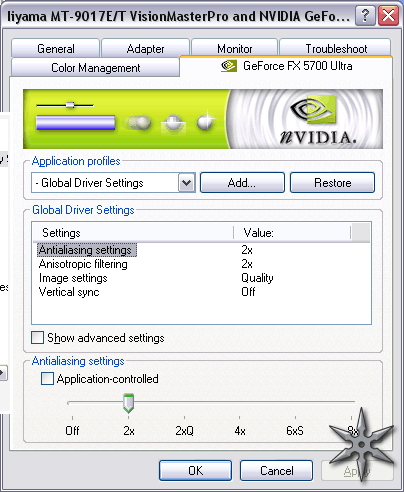 The XFX 5700 Ultra comes programmed with the core and memory settings below. The strange thing is when you use the Auto Detect feature the drivers actually down clock the core and memory speed. Manual overclocking on the other hand is a different story, more on that later.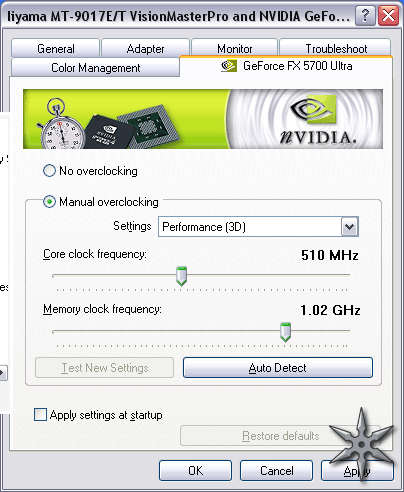 Framerates
Framerates were captured using a little software program called FRAPS. This program is very easy to use and appears to be very accurate. Gameplay was recorded from the start of the level and persisted for 120 seconds. Each resolution was tested twice with the results being weighted between the scores, most passes only varied by 2-5fps. Due to the nature of this testing the framerates recorded reflect real gameplay in a variety of situations with a genuine attempt to reproduce the passes as much as possible.
Benchmarks are next.