After careful consideration I have decided to transfer all hardware review activities to a new domain. I purchased Hardwareasylum.com in 2012 and have been working hard to build a new and improved Ninjalane on that domain. If you are reading this you have reached one of the archived articles, news, projects and/or reviews that were left behind during the site migration.
Please update your bookmarks and be sure to visit the new and improved Ninjalane at Hardwareasylum.com
Raidmax Blade Case Review
Author:

Garrett Perron
Published:
Wednesday, November 30, 2011

Case Layout and Features Cont.
The bottom of the case provides venting for the bottom mounted power supply and comes with an easy to remove filter to help with dust control. You will see the feet do allow for plenty of room for air circulation while also protecting the fan opening.
The back offers rubber grommets for a liquid cooling setup. Be careful when putting in cooling tubes as the grommets come off easily and the metal hole could puncture the tubes.

Looking inside the Blade, the first thing you notice will be the light blue tool-less brackets for the optical and hard drives. A simple twist will lock and unlock them, which makes swapping drives very easy.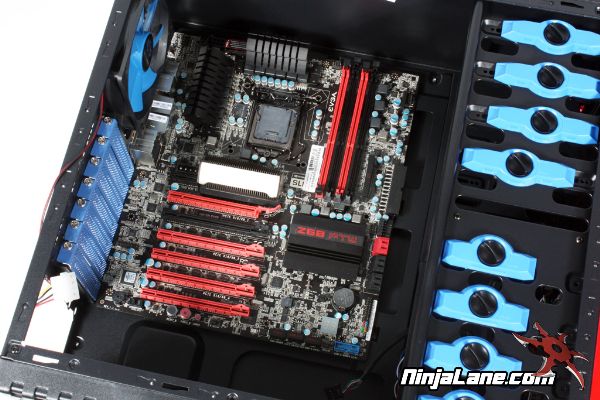 Unfortunately, cable management will be a little difficult with this case. As you can see from the picture our EVGA Z68 FTW motherboard does cover some of the slots, but is slightly larger than your typical motherboard. In addition, the space between the right panel and the motherboard tray isn't larger enough to route more than a few cables. However, it can handle a "typical" build featuring couple power and SATA cables without too much trouble.