After careful consideration I have decided to transfer all hardware review activities to a new domain. I purchased Hardwareasylum.com in 2012 and have been working hard to build a new and improved Ninjalane on that domain. If you are reading this you have reached one of the archived articles, news, projects and/or reviews that were left behind during the site migration.
Please update your bookmarks and be sure to visit the new and improved Ninjalane at Hardwareasylum.com
Thermaltake Challenger Pro Keyboard Review
Thermaltake Challenger Pro Keyboard Review
Author:

Darren McCain
Published:
Wednesday, December 29, 2010

Introduction
Thermaltake is a name that is familiar to system builder's worldwide. Known for their innovative case designs as well as their budget friendly aftermarket upgrades, Thermal take has recently branched out into competitive gaming with their Tt eSPORTS line of professional grade PC peripherals.

The new Challenger Pro Keyboard is one of the first products from the Tt eSPORTS line. The Challenger Pro is the second in a series of four keyboards and can be found for around $60 dollars.
Tt sure knows how to make a first impression. After opening the attractive red and black themed box, we are treated to separately bagged components. I travel to LAN parties more than most and always appreciate having a good bag to protect my investment. There are two smaller bags to hold the cabling and the various accessories. These two smaller bags will fit in the keyboard bag but it feels like an afterthought.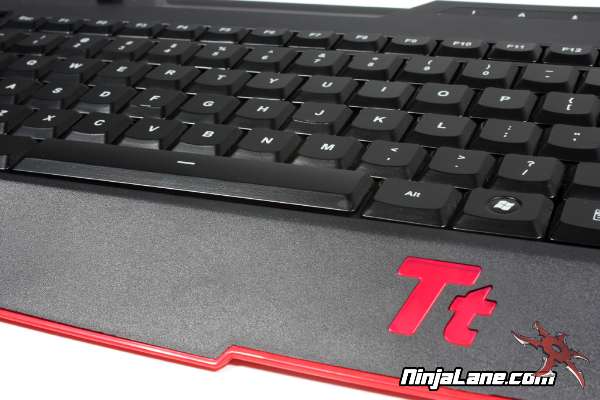 The Challenger Pro carries the same eSPORT theme out in its aggressive styling and red accents. I have to admit it looks pretty good even before you hook it up. The keyboard is full sized and measures 505x 195x 27mm. The front is slanted at a more extreme angle than I am used to and does not work well as a wrist rest. Tt does make a mechanical keyboard, the MEKA G1, but the Challenger Pro is a membrane keyboard. One thing that really sticks out is the key height is much shorter than I am used to. The result is a shorter, maybe crisper stroke that helps overcome the membrane feel.