After careful consideration I have decided to transfer all hardware review activities to a new domain. I purchased Hardwareasylum.com in 2012 and have been working hard to build a new and improved Ninjalane on that domain. If you are reading this you have reached one of the archived articles, news, projects and/or reviews that were left behind during the site migration.
Please update your bookmarks and be sure to visit the new and improved Ninjalane at Hardwareasylum.com
Foxconn A88GMX MicroATX Motherboard Review
Foxconn A88GMX MicroATX Motherboard Review
Author:

Dennis Garcia
Published:
Sunday, September 12, 2010

Introduction
When a new chipset is released there are generally two versions available, one version for desktop users, enthusiasts, and system builders, and another version for the OEM sector and special use systems. The idea behind this is to make sure the base product, the chipset, reaches all of the market segments and maximizes profits. So what are the basic differences? Often times, aside from basic configuration, the deciding factor is internal graphics. You see desktop systems are often designed to be modular and performance based, while the OEM sector is about making the system extremely compact and including everything you need without having to resort to expansion cards or additional support chips. This saves the OEM builder money and valuable space for the end user.

In this review we will be looking at a new MicroATX motherboard from Foxconn called the A88GMX. This board is built on the AMD 880G chipset and shares many of the same features found in the 890FX along with a small section for an integrated HD 4250 GPU. Gamers and power enthusiasts tend to shy away from motherboards with internal GPUs; however in some situations an onboard graphics processor can be extremely helpful.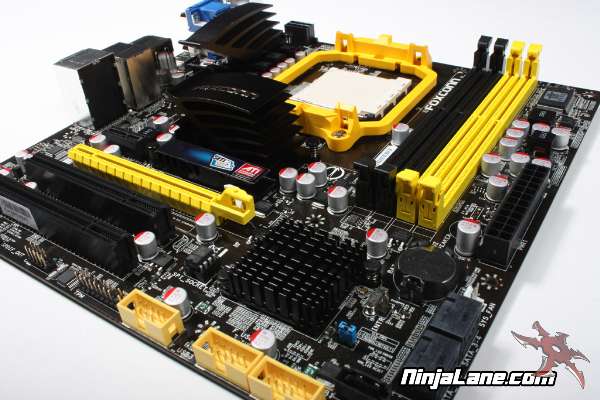 Motherboard Specifications
Processor: AMD Phenom II processor, Socket AM3
Chipset: AMD? 880G + SB710
Front Side Bus: 4.4 GT/s HyperTransport
Memory: Dual channel DDR3 1600(oc)/1333/1066 x 4 DIMMs, Max. 16GB
VGA on Die: Integrated ATI Radeon
Serial ATA(SATA)/RAID: SATAII * 5 + eSATA * 1 w / RAID 0, 1, 10
Audio: 7.1 channel HD Audio
LAN: Gigabit LAN
Standards/Manageability: PCI 2.3, USB2.0, DMI 2.5
Form Factor: Micro ATX ( 9.6" x 9.6")
For a complete and up to date list of specifications please consult the
Foxconn Channel Website