After careful consideration I have decided to transfer all hardware review activities to a new domain. I purchased Hardwareasylum.com in 2012 and have been working hard to build a new and improved Ninjalane on that domain. If you are reading this you have reached one of the archived articles, news, projects and/or reviews that were left behind during the site migration.
Please update your bookmarks and be sure to visit the new and improved Ninjalane at Hardwareasylum.com
OCZ 50GB RevoDrive PCI-Express SSD Review
Author:

Jim Manis
Published:
Monday, March 14, 2011
Setup and Testing Synthetic
Testing in the labs consists of our ever evolving suite of benches. We feel they give a nice blend of synthetic and "real world" tests. The system used in all of this reviews numbers is consistently configured, though some numbers may come from previous reviews.
The system as it was tested
Intel Core i7 2600k @ default 3.4Ghz (3.8 Turbo)
Asus P8P67 PRO
G.Skill 2133Mhz 7-10-7-27-1T (rated specs)
Sapphire HD6950 2GB (default)
Windows 7 X64 Ultimate Edition
The first bench on the list is ATTO. Synthetic benches are the most common and test raw performance but in different ways. We use several to get a good cross section.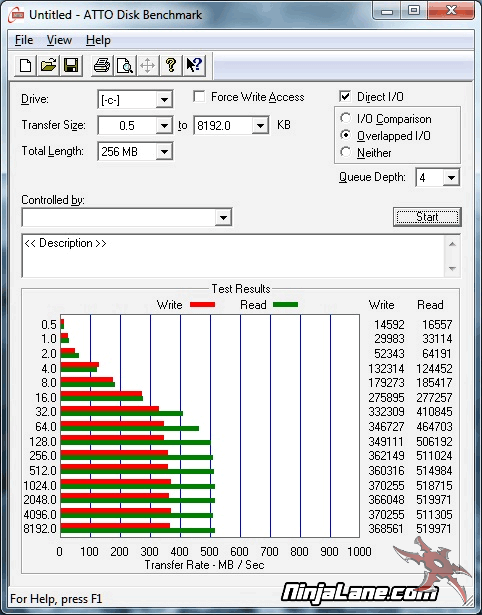 As you can see from the ATTO bench the Revo drive has some serious speed. We ran several different settings of the bench and saw similar results in all of them. OCZ specs claim the Revo drive is rated at 540 MB/s read and 450 MB/s write speeds and while these tests do not quite reach those numbers it is easy to see that the drive is capable of such speed.

When testing drives we like to use standard free to use benchmarks that the reader can easily download and run for themselves to see how their system stacks up. For this reason the benches are all run at default settings unless specified.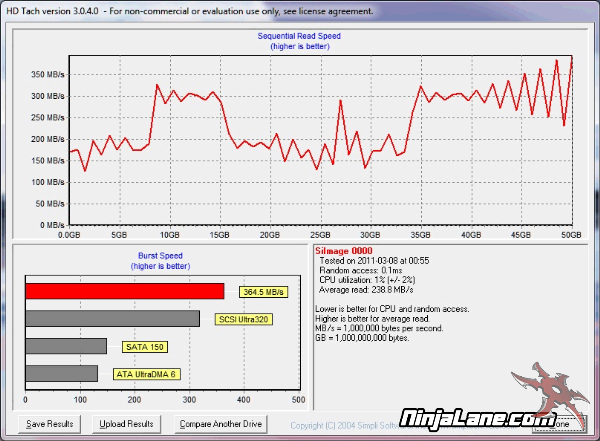 The HDtach Version we normally use is licensed to us but happens to be almost identical to the version you can get as a trial. (I couldn't find the key)

We see extremely consistent read speeds in this sequential test. Meaning data is just as easy to access anywhere on the drive whereas with platter drives we see the speeds slow down substantially towards the center of the drive. Revo, as well as other SSDs, do not suffer from this.