After careful consideration I have decided to transfer all hardware review activities to a new domain. I purchased Hardwareasylum.com in 2012 and have been working hard to build a new and improved Ninjalane on that domain. If you are reading this you have reached one of the archived articles, news, projects and/or reviews that were left behind during the site migration.
Please update your bookmarks and be sure to visit the new and improved Ninjalane at Hardwareasylum.com
OCZ 50GB RevoDrive PCI-Express SSD Review
Author:

Jim Manis
Published:
Monday, March 14, 2011
Performance PCMark Vantage
We've found the Disk suite in Futuremark's PCMark Vantage offers a nice mix of Windows related "real world tests" that can apply to all system drives. It runs a series of windows based applications and attempts to simulate the performance you would encounter in those tasks. It has proven in the lab to have very repeatable results and is a good indicator of a "real world" situation.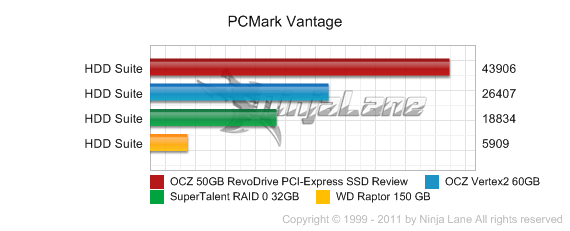 We are using Crystal DiskMark and DataMark to round out or review today. Both benchmarks test in similar fashion but the methods and results vary. In testing you try to look for a variety of benches to see if one or more expose a weakness or strengths. The Revo drive performed as we expected leaving the feeling this is a well rounded product and not just something that excels in one area only to disappoint in another.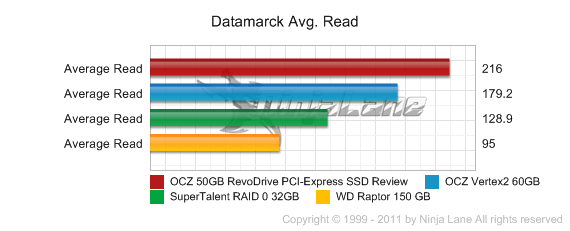 DataMark showed exactly why we use multiple benchmarks, The scaling is far different from the other purely synthetic tests, although it clearly shows the REVO is more than capable of leading the pack in any test you throw at it. Of course the only test that matters to most consumers is the real world usage they will see.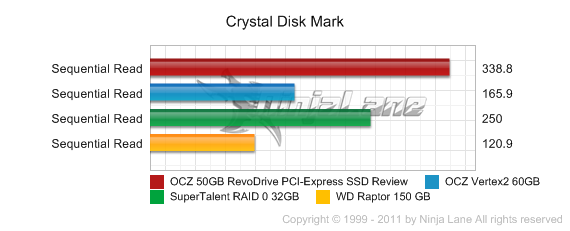 Benchmark Conclusion
Nice scaling is evidenced here. The
OCZ Vertex2
we tested previously is essentially the same as half of the REVO. Using the same type of components we had hoped for 2x the score and actually it showed slightly more than that. It even bested the previous champion, the RAID 0 array made up of
2 SuperTalent 32GB drives
.
The Revo 50GB drive lead all the others by a nice margin as well as being the first storage array in our lab to get a full 7.9 in the WEI rating in Windows 7.