After careful consideration I have decided to transfer all hardware review activities to a new domain. I purchased Hardwareasylum.com in 2012 and have been working hard to build a new and improved Ninjalane on that domain. If you are reading this you have reached one of the archived articles, news, projects and/or reviews that were left behind during the site migration.
Please update your bookmarks and be sure to visit the new and improved Ninjalane at Hardwareasylum.com
MSI Radeon HD 4890 1GB OC Graphic Card Review
Author:

William West
Published:
Thursday, May 07, 2009

Introduction
Recently ATI released an upgrade to the popular Radeon HD 4870 aptly named the Radeon HD 4890. As the name would suggest this is a slightly better card when compared to the HD 4870 and even looks very similar on the surface. In fact aside from the higher clock speeds, and increased power efficiency it is exactly the same.

In this review we will be looking at MSI version of this new card called the Radeon HD 4890 OC. OC stands for overclocked meaning it comes from the factory with a slightly better clock speed from what ATI had intended. Typically OC cards don't overclock well but with a little tweaking you can usually squeeze out a few more frames or, simply leave the card alone and enjoy the nice performance boost.

The MSI Radeon HD 4890 1GB OC comes with a 880Mhz core speed which is 30Mhz over the rated 850Mhz default. This isn't that bad but may not seem like much at first. This card also features 1GB of GDDR5 RAM running at 1000MHz (4.0Ghz effective) which is 50Mhz over the 950MHz default. Combined this gives you roughly 127.9GB/s of total memory bandwidth.

The important thing to take away from this is that MSI is giving you these factory settings for basically nothing, that's right factory overclocking with no additional cost to you. Lets take a closer look at some of the physical aspects of the MSI Radeon HD 4890.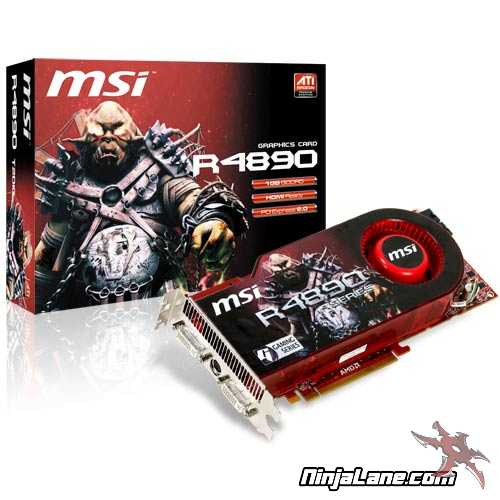 MSI Radeon HD 4890 1 GB OC Specifications
Fabrication Process: 55nm
Core Clock: 880MHz
Shader Clock: 880MHz
Stream Processors: 800 units
ROP Units: 16
Texture Filtering Units: 40
Memory Interface: 256-bit
Memory Amount/Type: 1GB/GDDR5 Memory
Memory Clock: 1000MHz (3996MHz effective)
Memory Bandwidth: 127.9 GB/s
DirectX Compliance: 10.1
Connection: 16x PCI Express 2.0
Form Factor: Dual Slot
Multi-GPU Support: Corssfire X