After careful consideration I have decided to transfer all hardware review activities to a new domain. I purchased Hardwareasylum.com in 2012 and have been working hard to build a new and improved Ninjalane on that domain. If you are reading this you have reached one of the archived articles, news, projects and/or reviews that were left behind during the site migration.
Please update your bookmarks and be sure to visit the new and improved Ninjalane at Hardwareasylum.com
MSI Radeon HD 4890 1GB OC Graphic Card Review
Author:

William West
Published:
Thursday, May 07, 2009

MIrrors Edge
Mirrors Edge is a newer game with a very different take on the First Person Shooter genre. The reason is that the main character rarely uses a firearm to take out the enemies but instead uses speed and "free running" tactics to get around. Mirrors Edge is a very fast moving game with acrobatic stunt jumping from rooftop to rooftop. The graphics are just absolutely stunning with a true DirectX 10 support.
Mirrors edge was tested using everything turned up high and 8x Anti-Aliasing, and with 16x Anisotropic. Mirrors Edge is placed mainly on top of roofs with lots of hard straight lines that need lots of anti-aliasing in order to keep the jaggedness from looking just horrible.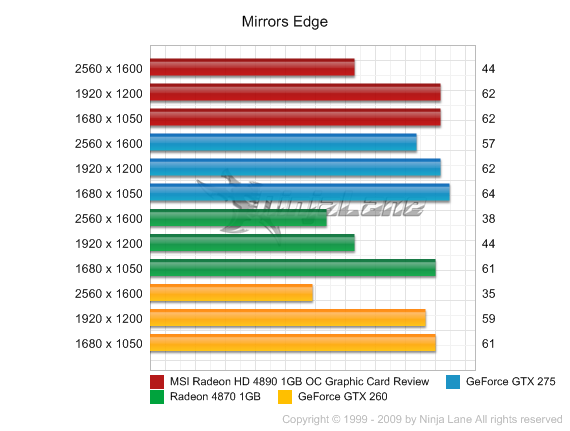 Mirror's Edge has a setting to cap the framerate at 60FPS, this helps to provide smoother graphics when you are actually playing the game, however when its being used as a benchmark gives us a nice chart full of color. The important numbers to notice are at the 2560 x 1600 resolution and be mindful of the actual number as the chart can be deceiving.