After careful consideration I have decided to transfer all hardware review activities to a new domain. I purchased Hardwareasylum.com in 2012 and have been working hard to build a new and improved Ninjalane on that domain. If you are reading this you have reached one of the archived articles, news, projects and/or reviews that were left behind during the site migration.
Please update your bookmarks and be sure to visit the new and improved Ninjalane at Hardwareasylum.com
VisionTek ATI HD 2400 Pro Review
Author:

Dennis Garcia
Published:
Monday, August 27, 2007

Benchmarks
It is a proven fact that 90 percent of budget video cards do not do well when it comes to gaming, however the actual number varies depending on the game genre, game technology, and processor speed. For this review we will be using Serious Sam II as or primary benchmark with the aid of a benchmarking tool that you can find over at Guru3D called the Serious Sam II Benchmark. This tool allows us to set the resolution, and technologies we want to test and benchmark them against one of the 3 internal demos. The scores are then formatted into an HTML page for easy viewing, and saving.
The system as it was tested
Foxconn 975X7AB-8EKRS2H Intel 975X Express Chipset
Core 2 Duo E6400 (2.13GHz) 2MB L2 cache 1066MHz FSB (Dual-Core)
OEM Heatsink
2x Adata Vitesta DDR2 800 (5-5-5-15) 512megs
Western Digital Raptor 36gig SerialATA 10000RPM
Antec NeoHE 550 power supply
12x/40x DVD/CDRom
Windows XP Professional Service Pack 1

Video cards
VisionTek ATI Radeon HD 2400 Pro
Chaintech SE6600G GeForce 6600GT PCI Express
Serious Sam II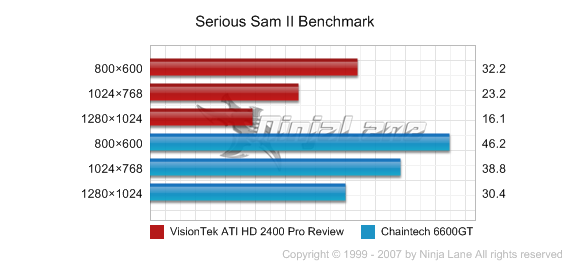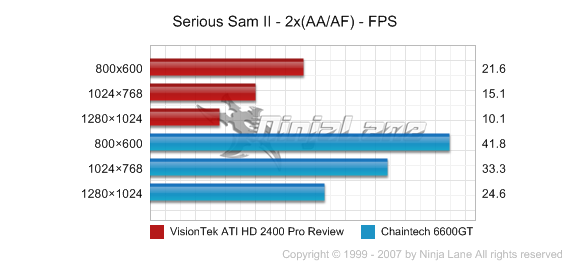 Benchmark Conclusion
As we may have guessed the HD 2400 Pro is not the premier gaming card and likely better suited for dual monitor graphics work, and HD video playback.  This is basically a mainstream video card for mainstream systems.  That is not to say you cannot game on this video card.  It is possible play Serious Sam II at 10x7 with the "detected" settings we did it for several hours.  The framerate is decent, lag is manageable, and the color rendering and details are superb.

Don't read too much into the benchmark numbers, afterall the Radeon HD 2400 Pro is the slowest 2xxx series card available and our 6600 GT is one of the fastest 6600's around.