After careful consideration I have decided to transfer all hardware review activities to a new domain. I purchased Hardwareasylum.com in 2012 and have been working hard to build a new and improved Ninjalane on that domain. If you are reading this you have reached one of the archived articles, news, projects and/or reviews that were left behind during the site migration.
Please update your bookmarks and be sure to visit the new and improved Ninjalane at Hardwareasylum.com
VisionTek ATI HD 2400 Pro Review
Author:

Dennis Garcia
Published:
Monday, August 27, 2007

Home Theater Hookup
Hooking the Radeon HD 2400 Pro into any home theater system is a snap and can be done in a number of different ways.  The easiest and most trouble free is by using the included HDMI connection.  VisionTek did not include any cables with this video card so you'll need to acquire the HDMI cable yourself.

The hook up process is quite simple and consists of removing all monitor connections and attaching an HDMI cable from the video card either directly into your TV or Panel display.  If your Home Theater is comprised of components the installation method may be different.  (amp, tuner etc..)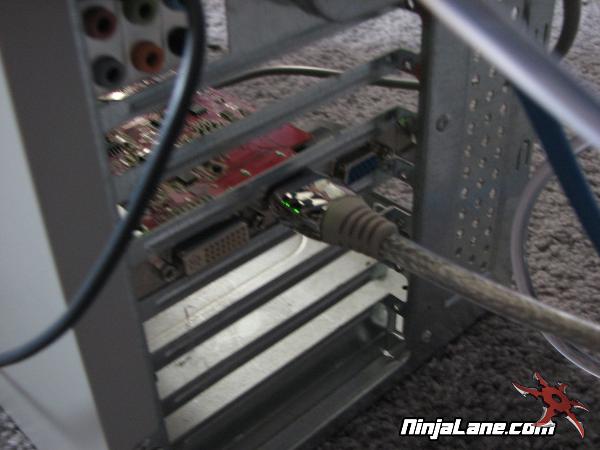 You like my super spy "ebay" photo? I figured it was time to take a crappy photo and post it to the web

Turn on your TV first and then power on your PC (or HTPC). After a short while a boot up screen should appear followed by your desktop. We messed around with resolutions and found our 1080p DLP television operated at 1920x1080 with no issues however text became very difficult to read. Lower resolutions resolved this issue with the sweet spot around 720p (using default font sizes).
Gaming on the big screen was quite an experience; we fired up the familiar Serious Sam II and proceeded to see how well it would run. Visually the game was stunning at 1920x1080 but even with HD Video acceleration the framerate was well below 12FPS and virtually unplayable. Framerate was better at 720p but still was not enough to make the game playable.

On the other hand video playback was excellent.