After careful consideration I have decided to transfer all hardware review activities to a new domain. I purchased Hardwareasylum.com in 2012 and have been working hard to build a new and improved Ninjalane on that domain. If you are reading this you have reached one of the archived articles, news, projects and/or reviews that were left behind during the site migration.
Please update your bookmarks and be sure to visit the new and improved Ninjalane at Hardwareasylum.com
VisionTek ATI HD 3870 X2 OC Review
Author:

Guest Ninja
Published:
Thursday, July 17, 2008

Included Goodies
In the box:

VisionTek ATI Radeon 1GB HD3870x2 OC graphics card
Quick Install Guide
DVI-I to VGA adapter
DVI to HDMI adapter (supports audio and video)
Crossfire bridge interconnect
S-Video/composite adapter
Component HDTV connector.

The included software features the Catalyst driver version 8.2 and a Ruby ROM Volume 1 disk.
It was a bit surprising to see that VisionTek provided more than just your typical driver disk. In addition to the Catalyst drivers you get an additional Ruby ROM Volume 1 disk that includes games, applications, a screensaver and some wallpaper.

For the gamers, you get game demos of Call of Juarez, Dungeon Runners and Stranglehold. As for applications you get Earthsim and GameShadow.

For this review we opted for the latest drivers and skipped the pack-alongs this time out.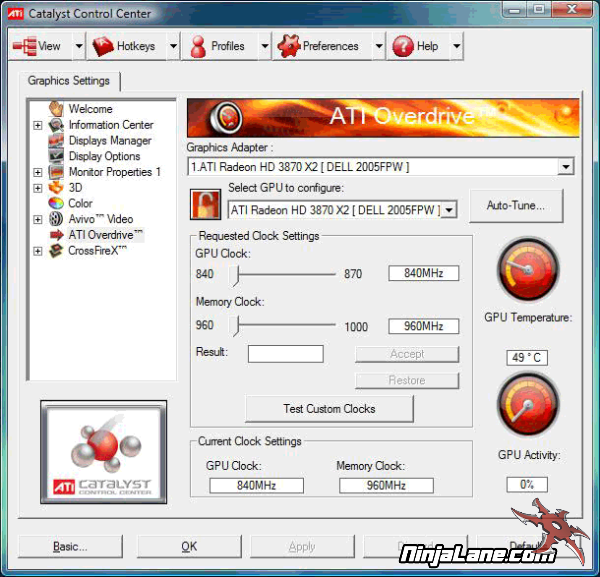 We will be using the latest Catalyst driver Version 8.6 for this review. As you can see from the above image, the default clocks for the VisionTech HD 3870 X2 Overclocked Edition are a respectable 840MHz on the GPU and 960MHZ for the memory. ATI overdrive will also show you current GPU activity and temperature.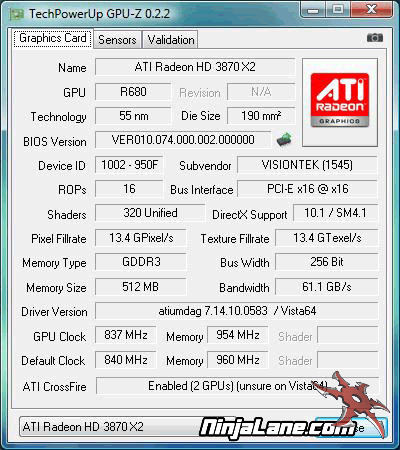 The stock clocks for a 3870 X2 sit at 825MHz and 900 MHz respectively. With a little help from the GPU-Z (Version 0.2.2) we are able to get a more exact picture of the actual card specifications. Everything is just reaching the rated specs and more importantly there may be some room left to play.