After careful consideration I have decided to transfer all hardware review activities to a new domain. I purchased Hardwareasylum.com in 2012 and have been working hard to build a new and improved Ninjalane on that domain. If you are reading this you have reached one of the archived articles, news, projects and/or reviews that were left behind during the site migration.
Please update your bookmarks and be sure to visit the new and improved Ninjalane at Hardwareasylum.com
VisionTek ATI HD 3870 X2 OC Review
Author:

Guest Ninja
Published:
Thursday, July 17, 2008

Conclusion
Installation
Installing the VisionTek 3870 X2 OC is similar to any other video card install. Simply snap the card securely into your PCI-Express slot and plug in the two 6-pin power sockets. Don't forget to secure the top of the card with a couple of screws. The extra size of a double width card coupled with the large copper heatsink could be enough to cause damage to your slot if not installed properly.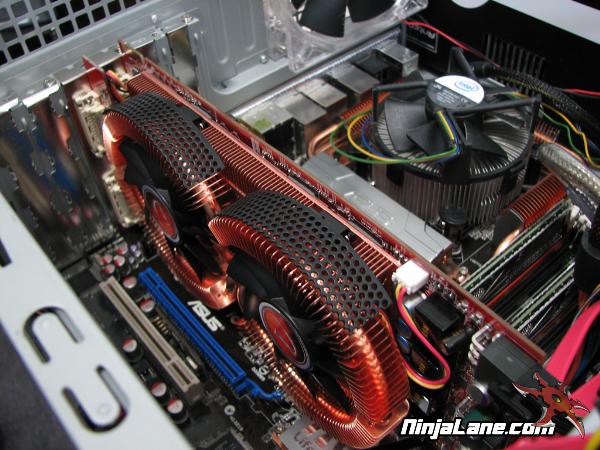 With four DVI ports to choose from you may have to try a couple of times to find the live port during the initial boot. Our card installed with the CrossFireX option already turned on but the installation card recommends checking this setting after the first driver installation and enable CrossFireX if desired.
Conclusion
The VisionTek HD 3870 X2 Overclocked Edition is one of the most impressive looking cards you can buy. The copper heatsink is on par with some of the top aftermarket cooling systems and the fans run at a reasonable volume even under load. Ultimately you do pay a little more for factory overclocking and the upgraded cooling, and this card is definitely on top of the 38xx family.
VisionTek sweetens the pot by offering solid HD video and 5.1 surround sound via HDMI, ATI Avivo™ HD Technology and the UnifiedVideo Decoder for stunning high definition playback. Support of DirectX 10.1 and shader Model 4.1 provide the best possible Vista support and VisionTek backs it all with a lifetime warranty and toll free technical support.
Now for the ever popular list of Good things and Bad things.

Good Things
HDMI Video Out
5.1 Channel Surround Sound
Red PCB
DirectX 10.1 Support
Unified Video Decoder for Blu-Ray and HD-DVD
factory Overclocking
Bad Things
No exhaust port for the heatpipes
Driver support still not mature
HD Video Playback requires HD video player
We would like to thank
VisionTek
for helping to make this review possible. Be sure to check out their website for the latest in VisionTek products and drivers.