After careful consideration I have decided to transfer all hardware review activities to a new domain. I purchased Hardwareasylum.com in 2012 and have been working hard to build a new and improved Ninjalane on that domain. If you are reading this you have reached one of the archived articles, news, projects and/or reviews that were left behind during the site migration.
Please update your bookmarks and be sure to visit the new and improved Ninjalane at Hardwareasylum.com
Leadtek WinFast PX8400 GS TDH Silent Review
Author:

Dennis Garcia
Published:
Sunday, September 16, 2007

Benchmarks - Overclocked
As with all of our reviews we pit the default speed system against the overclocked one in a head to head byte match. The results of this can be seen below.  The clock settings found on the PX8400GS are 459/400 (Mhz).  

For our overclocking tests we cranked the Core clock up to 501Mhz and the memory clock up to 481Mhz (962Mhz effective) which just happened to be the "safe" stopping point before screen artifacts and tearing started to take over.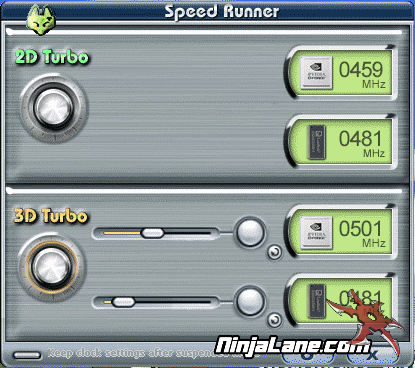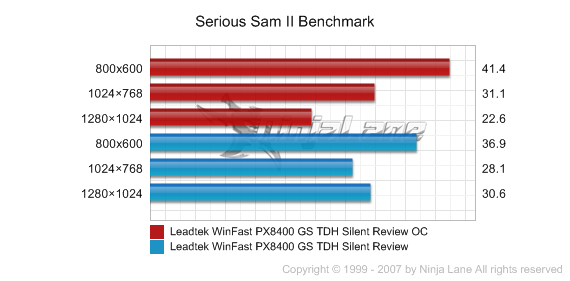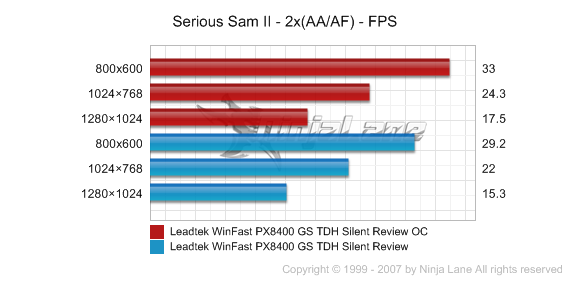 Overclocking Conclusion
These overclocking scores are not going to win any speed contests and in some regards are very minor but they do show that you can squeeze a little more performance from the standard 8400GS even with a completely silent cooling method.