After careful consideration I have decided to transfer all hardware review activities to a new domain. I purchased Hardwareasylum.com in 2012 and have been working hard to build a new and improved Ninjalane on that domain. If you are reading this you have reached one of the archived articles, news, projects and/or reviews that were left behind during the site migration.
Please update your bookmarks and be sure to visit the new and improved Ninjalane at Hardwareasylum.com
MSI GTX550 Ti Cyclone OC Video Card Review
Author:

Will West
Published:
Monday, April 11, 2011
Cyclone Cooling & Overclocking
A side by side look at the Cyclone heatsink compared to the NVidia reference card shows the different approach MSI took to address heat. The Cyclone II cooler is a very open design that allows air to flow from all directions without a lot of focused cooling. One thing you will notice is how similar the primary fan and heatsink are to the reference design. This can be good and bad so let's start playing with some overclocks and check the temperatures.
The MSI GTX550-Ti Cyclone is a factory overclocked video card so overall performance will be better than the stock reference design. Despite this we will be looking to see how much more we can get from the card given the new cooler and carry those clocks through the testing suite.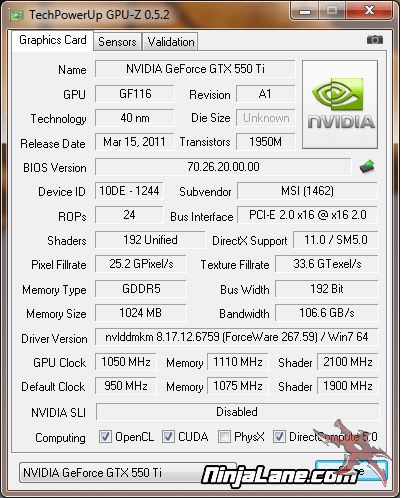 We have several clocks to consider when looking at our GPUz screenshot. The default clocks (950/1075/1900) show the factory overclocks that MSI has configured with this card. The GPU Clock section (1050/1110/2100) shows our final stable overclocks for this card. Finally you must also consider the stock clocks (900/1026/1800) and realize how much faster you can make most any GTX 550 Ti, especially considering our 150Mhz core overclock on this card alone.
Operating Temperature
These numbers were recorded with a 21c ambient temp with fan RPM at auto except for the overclocked result where the fan was cranked up to 100%.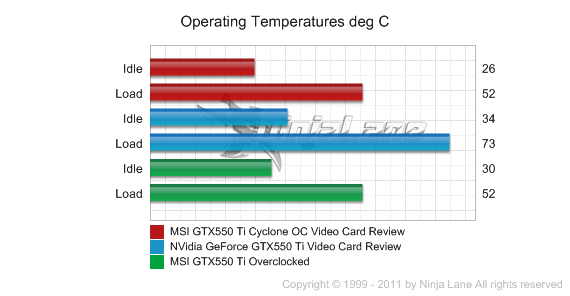 The temperature numbers here are amazing and do show that custom coolers do work when designed correctly. The majority of the cooling performance can be attributed to the 2 heatpipes and additional surface area. Sadly that additional surface area comes at the expense of an extremely tall heatsink but still remains in the dual slot configuration.