After careful consideration I have decided to transfer all hardware review activities to a new domain. I purchased Hardwareasylum.com in 2012 and have been working hard to build a new and improved Ninjalane on that domain. If you are reading this you have reached one of the archived articles, news, projects and/or reviews that were left behind during the site migration.
Please update your bookmarks and be sure to visit the new and improved Ninjalane at Hardwareasylum.com
Sapphire Radeon HD 5770 Flex Video Card Review
Author:

Will West
Published:
Thursday, August 12, 2010

Multi-Display Gaming
The idea of running multiple monitors for gaming has been a fantasy for games since gaming first came out. In the PC gaming world it has taken a long time to realize the full potential of the GPU and the limitation put on them from a single monitor setup. The amount of pixel pushing power in today's GPU has been screaming for a multi-display setup.

Well now is the time, from both GPU makers, to bring this new beloved technology into light. Each company has their own ways of doing this and the Sapphire Radeon HD 5770 Flex is ahead of the curve by allowing you to display a game across four monitors at one time.

All you will need is three DVI and one DisplayPort monitor to make this happen.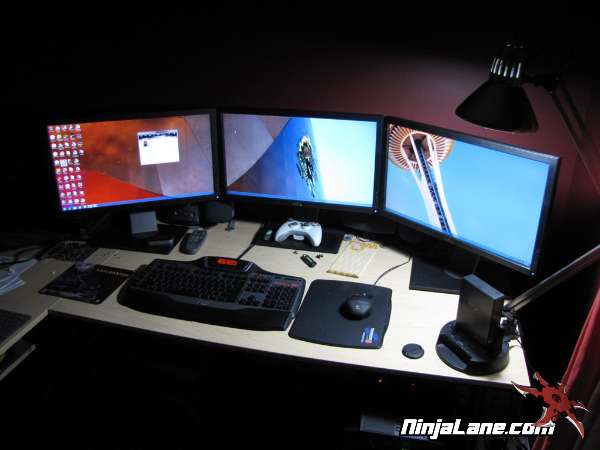 Even though running 3 monitors at full resolution might sound like too much from a mid-range video card it is possible, and we are going to show you the numbers to prove it.

So sit back and enjoy.
Dirt 2

We took Dirt 2 for a spin for one of the best Ultra-wide screen experience using two setting with the 5760 x 1080 resolution.

The higher resolution does take its toll on the Radeon HD 5770 Flex, however lowering the resolution and settings allows the GPU "to put the hammer down" and kick out enough frames for a better gaming experence.
Just Cause 2

Let's look at another game that can put the hurting on any single GPU setup into a Multi-Display configuration. This game is Just Cause 2; High setting has everything turned to Max, 16x Anisotropic, and Anti-Aliasing switched off. Medium setting has everything turned to high (or Medium) with 16x Anisotropic and no Anti-Aliasing.

Much like in Dirt 2 the higher resolution demands a lot of the Sapphire Radeon HD 5770 Flex, however that is to be expected from a mid-range card powering 3 displays at once. The games are playable in this configuration and performance is scalable by simply adding more cards to the mix.