After careful consideration I have decided to transfer all hardware review activities to a new domain. I purchased Hardwareasylum.com in 2012 and have been working hard to build a new and improved Ninjalane on that domain. If you are reading this you have reached one of the archived articles, news, projects and/or reviews that were left behind during the site migration.
Please update your bookmarks and be sure to visit the new and improved Ninjalane at Hardwareasylum.com
Sapphire Radeon HD 5770 Flex Video Card Review
Author:

Will West
Published:
Thursday, August 12, 2010

Dirt 2
Dirt2 is a rally racing game that is huge among the world racing community. The game combines many racing scenarios including dirt and pavement tracks with great physics effects applied to each.

In terms of technology Dirt2 will run in either DirectX 9, or the new DirectX 11 technology depending on what your video card supports. The DirectX 11 edition adds a few new options to the game such as tessellation and Shader 5.0, among others.
Testing of Dirt 2 is with all settings turned to Ultra with 8x anti-aliasing and 16X anisotropic Filtering. Take note that the Radeon HD 5770's and the GeForce GTX 460 cards are running with DX11 at full settings while the GTS 250 card is running DX9.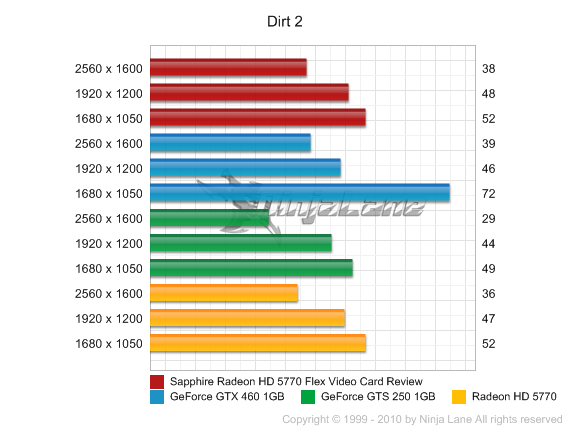 Here is where the Sapphire Radeon HD 5770 Flex gets to shine above the GTX 460, in a full DX11 glory at that. The performance race is tight with the GTX 460 until we hit 1680 x 1050.

This is okay for the Radeon HD 5770 as it has created a great gaming experience across the board.