After careful consideration I have decided to transfer all hardware review activities to a new domain. I purchased Hardwareasylum.com in 2012 and have been working hard to build a new and improved Ninjalane on that domain. If you are reading this you have reached one of the archived articles, news, projects and/or reviews that were left behind during the site migration.
Please update your bookmarks and be sure to visit the new and improved Ninjalane at Hardwareasylum.com
Sapphire Radeon HD 5770 Flex Video Card Review
Author:

Will West
Published:
Thursday, August 12, 2010

Overclocking
Most gamers love the idea of getting a little extra headroom for overclocking out of their video cards to add value to their purchase. Still the old saying of "your mileage may vary" should always be kept in mind for not all GPU are the same for overclocking. The Sapphire Radeon HD 5770 Flex is no different in this respects, and to be honest, was little disappointing.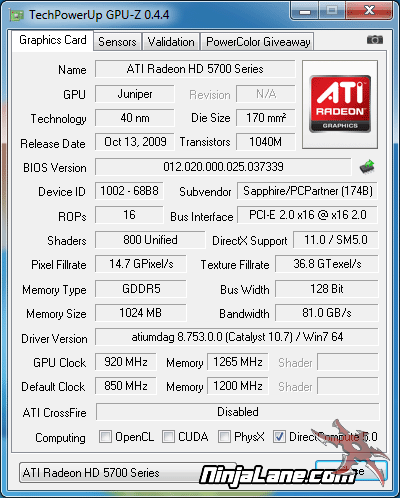 Yes, the overclock is not very promising, but keep in mind this is all free performance as it is. So if you get something awesome then be happy, but even just to get a little bit of something is better than nothing. Let's see if this overclock translates into extra performance.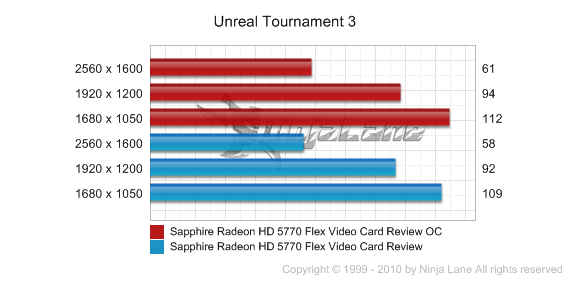 The overclock does translate into a very small performance hike that is nice.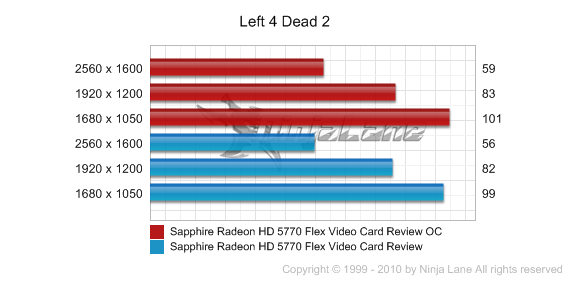 Once again the overclock is very minimal for a performance jump, but it is free and that is what counts.