After careful consideration I have decided to transfer all hardware review activities to a new domain. I purchased Hardwareasylum.com in 2012 and have been working hard to build a new and improved Ninjalane on that domain. If you are reading this you have reached one of the archived articles, news, projects and/or reviews that were left behind during the site migration.
Please update your bookmarks and be sure to visit the new and improved Ninjalane at Hardwareasylum.com
Shuriken - SX635 AntecMod - Total Conversion
Author:

Dennis Garcia
Published:
Tuesday, April 16, 2002

Tinted Window Install
Tinted Window Install
The window install is pretty self-explanatory. I first applied the tint to the acrylic sheet; your local automotive store will have window-tinting kits that include everything that you will need. After the tint was applied I put down some silicon sealant and put the window into place.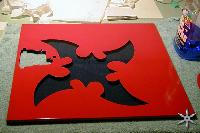 Pressure was applied to give a strong and flush bond, I've found books work really well for this purpose. After about 20min the silicon will have setup enough for you to remove the weight and check your work.