After careful consideration I have decided to transfer all hardware review activities to a new domain. I purchased Hardwareasylum.com in 2012 and have been working hard to build a new and improved Ninjalane on that domain. If you are reading this you have reached one of the archived articles, news, projects and/or reviews that were left behind during the site migration.
Please update your bookmarks and be sure to visit the new and improved Ninjalane at Hardwareasylum.com
Shuriken - SX635 AntecMod - Total Conversion
Author:

Dennis Garcia
Published:
Tuesday, April 16, 2002

Apply Paint
Apply Paint
I'm not going to talk in depth about the painting process though I will say a garage works pretty well just as long as its clean. I used your standard automotive grade paint but had trouble keeping the excess dust down so it didn't go on as smooth as I would have liked. I think a little paint polish should take care of that.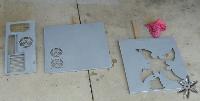 Upper two: Cleaning and primer coats.
Right: wet sanding.
Lower two: Color coats, Black and Indian Red