After careful consideration I have decided to transfer all hardware review activities to a new domain. I purchased Hardwareasylum.com in 2012 and have been working hard to build a new and improved Ninjalane on that domain. If you are reading this you have reached one of the archived articles, news, projects and/or reviews that were left behind during the site migration.
Please update your bookmarks and be sure to visit the new and improved Ninjalane at Hardwareasylum.com
Shuriken - SX635 AntecMod - Total Conversion
Author:

Dennis Garcia
Published:
Tuesday, April 16, 2002

Side Fan Cutting
The next step is to remove the fans and mark the grill location on the side panel. I used a fine tipped marker to trace around each of the grills and a triangle to line up the screw holes.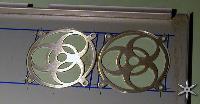 Once again using the Dremel tool I cut spaces for the laser-cut grills to fit in. When finished both grills where pressure fit into place and flushed up to the outer case panel.