After careful consideration I have decided to transfer all hardware review activities to a new domain. I purchased Hardwareasylum.com in 2012 and have been working hard to build a new and improved Ninjalane on that domain. If you are reading this you have reached one of the archived articles, news, projects and/or reviews that were left behind during the site migration.
Please update your bookmarks and be sure to visit the new and improved Ninjalane at Hardwareasylum.com
Shuriken - SX635 AntecMod - Total Conversion
Author:

Dennis Garcia
Published:
Tuesday, April 16, 2002

Shuriken Window Cutting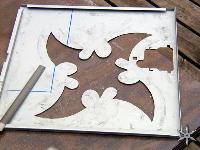 What would a case mod be without a window?? I wanted to do something a little different and since the
Playboy bunny head
was out of the question I drew up this throwing star in AutoCAD, then had it plotted to a workable scale on cardstock.
An x-Acto knife cut the paper version the Dremel cut the rest.