After careful consideration I have decided to transfer all hardware review activities to a new domain. I purchased Hardwareasylum.com in 2012 and have been working hard to build a new and improved Ninjalane on that domain. If you are reading this you have reached one of the archived articles, news, projects and/or reviews that were left behind during the site migration.
Please update your bookmarks and be sure to visit the new and improved Ninjalane at Hardwareasylum.com
The playtime case mod
Author:

Dennis Garcia
Published:
Sunday, June 10, 2001

3 80mm Fans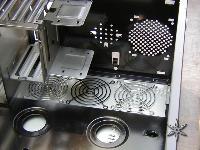 I am going to progress though this project in 3 sections, cooling, window, and assembly. The first section will be installing the cooling features. For added cooling 3 Sumon 80mm fans will be added to the back panel. The first photo shows where we decided to place the fans.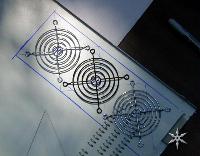 After marking the location with the case assembled the panel was removed so we would mark the actual fan locations and relative screw attachment points.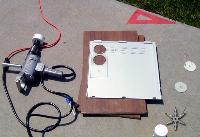 With a standard 3" hole saw and high-powered drill the fan openings are cut. The fans are then trial fit so the mounting holes could be marked and drilled. Care needs to be taken with this step, one slip of the hole saw and the entire panel could be destroyed.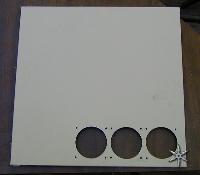 This last shot is the finished panel before it was painted. Now don't think I'm trying to pull a fast one on you, the vent holes are missing. The original plan was to pound out the vents and fill the gaps with body filler but, the plans changed. Instead another case was ordered for spare parts. I just re cut the holes into the new panel.