After careful consideration I have decided to transfer all hardware review activities to a new domain. I purchased Hardwareasylum.com in 2012 and have been working hard to build a new and improved Ninjalane on that domain. If you are reading this you have reached one of the archived articles, news, projects and/or reviews that were left behind during the site migration.
Please update your bookmarks and be sure to visit the new and improved Ninjalane at Hardwareasylum.com
The playtime case mod
Author:

Dennis Garcia
Published:
Sunday, June 10, 2001

Attach Window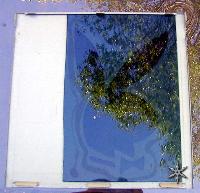 Once again we are at an assembly stage. After painting the side panel the only thing left to do is attach the window. I've always opted to glue the window in place. The result looks cleaner and requires less cutting on the window. If you look carefully you can see where I placed the bead of silicon that is used to glue the window into place. Depending on the bead width you will need to watch how close you get to the opening. Silicon is very hard to clean up esp. on plastic, so if you try this be careful.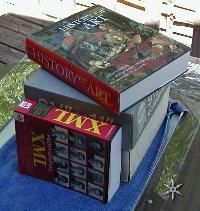 The next step is to apply pressure to flatten the silicon and hold it in place until it cures. I like to use books and here is some of the larger ones that I have.
It takes about 2 hours for the silicon to set up and another day for it to completely cure, after that it is attached forever.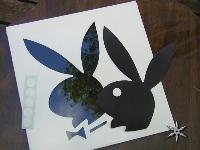 The only thing missing is the bunny's eye. For a dollar the local sign shop cut me a few white circles that I'm going to use. Not knowing exactly where the eye is located I placed the removed portion of my original template on the back side of the window, this helped me place the sticker in the proper location. The last photo shows the finished window with the eye installed.