After careful consideration I have decided to transfer all hardware review activities to a new domain. I purchased Hardwareasylum.com in 2012 and have been working hard to build a new and improved Ninjalane on that domain. If you are reading this you have reached one of the archived articles, news, projects and/or reviews that were left behind during the site migration.
Please update your bookmarks and be sure to visit the new and improved Ninjalane at Hardwareasylum.com
The playtime case mod
Author:

Dennis Garcia
Published:
Sunday, June 10, 2001

Final Assembly/Conclusion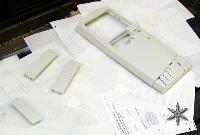 All that is left now is to paint the front bezel, and put everything together. One nice thing about this case is that all of the translucent pieces where removable making the painting process very easy.
Since this piece was plastic the surface needed to be treated with a light coat of primer, otherwise the paint has trouble sticking.
The last two shots are of the case with everything installed. There are some items that will be added once the case becomes populated with equipment. These items include a neon light and fanbus. The neon light has been ordered and will be installed under the bunny head. The other item, the fanbus, will control two of the three fans on the side and the neon light. The location of the switces has yet to be determined but will most likely be placed on the back side of the case to keep the look clean.
The Playboy bunny is a registered trademark of of Playboy Enterprises International