After careful consideration I have decided to transfer all hardware review activities to a new domain. I purchased Hardwareasylum.com in 2012 and have been working hard to build a new and improved Ninjalane on that domain. If you are reading this you have reached one of the archived articles, news, projects and/or reviews that were left behind during the site migration.
Please update your bookmarks and be sure to visit the new and improved Ninjalane at Hardwareasylum.com
The playtime case mod
Author:

Dennis Garcia
Published:
Sunday, June 10, 2001

Window Layout/Cutting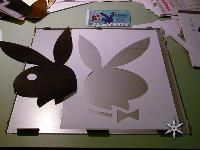 Now for the fun part, the window. First I scanned in logo that you saw earlier and printed it out on 11x17 paper.
Using an hobby knife I trimmed away the black to give myself a paper template to trace from. These photos show a progression of how the transfer took place.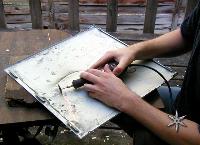 The next part took the better half of 4 hours to complete. Using a Dremel tool and some reinforced cutting disks I proceeded to cut along the inside of the little blue line.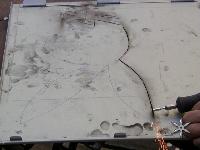 ..And kept cutting