After careful consideration I have decided to transfer all hardware review activities to a new domain. I purchased Hardwareasylum.com in 2012 and have been working hard to build a new and improved Ninjalane on that domain. If you are reading this you have reached one of the archived articles, news, projects and/or reviews that were left behind during the site migration.
Please update your bookmarks and be sure to visit the new and improved Ninjalane at Hardwareasylum.com
QNAP TS-209 Pro II Turbo NAS Review
Author:

William West
Published:
Saturday, September 20, 2008

Installation & Web Configuration
Installation is very easy we have to complement QNAP for taking all of the guesswork out of it.
One of the first things to do is install a program called QFinder. You can get this program from the included software CD or from the QNAP website. What this program does is allow you to find the QNAP on your network. From here you can log into the unit and start your initial configuration.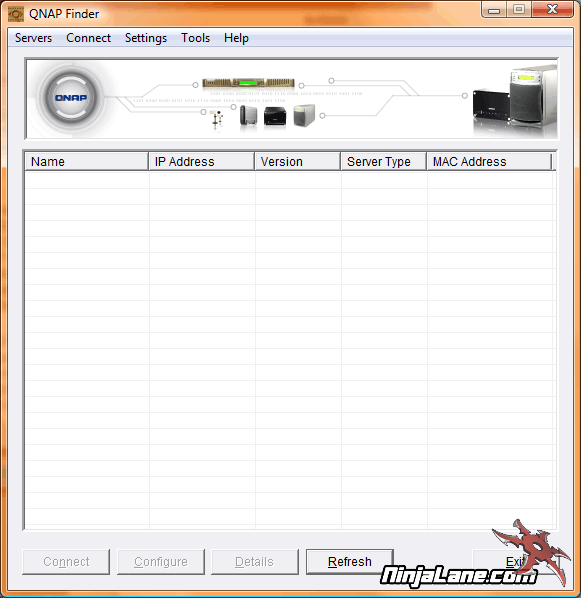 Installation is a 9-step process that runs you through setting up features, network settings, RAID volumes, and even creating a list of users and passwords. Keep in mind that since the TS-209 Pro only supports 2 HDDs you will be limited to RAID levels 0, 1, or JBOD.

When setting up the LAN connection you can choose between a Static IP or dynamic IP. Given that this will be a server on your network the best option is to use a Static IP address so you can easily find the device if the hostnames do not resolve.

This whole Qfinder setup should only take a couple minutes, the rest of the configuration is done via the web browser.
Web Configuration
When accessing the NAS via the web browser you are presented with a variety of different screens. Here we see the physical folders that are on the QNAP TS-209 Pro II Turbo NAS. Each of these folders is part of the overall systems options and anything other than the Public Folder will require that you setup user permissions so it can be accessed from the network.

Public folders like this come in real handy when hosting a LAN Party since there is always a handful of folks that don't have the proper patches or even the same game.
The main menu displays every option available to TS-209 Pro II Turbo NAS. As you'll notice this device can do a ton of different things.