After careful consideration I have decided to transfer all hardware review activities to a new domain. I purchased Hardwareasylum.com in 2012 and have been working hard to build a new and improved Ninjalane on that domain. If you are reading this you have reached one of the archived articles, news, projects and/or reviews that were left behind during the site migration.
Please update your bookmarks and be sure to visit the new and improved Ninjalane at Hardwareasylum.com
NVIDIA GeForce GTX 480 Video Card Review
Author:

Will West
Published:
Friday, March 26, 2010

PhysX
With the new GeForce GTX 480 coming out we get to explore some of the extra power that has been given to us from a single GPU card while having PhysX enabled. In these tests we have grabbed a few games that use PhysX very heavily and test them using three different generations of PhysX enabled GPUs.
Darkest of Days
We tested this game setting anti-aliasing to 8x for the smoothest possible picture and with PhysX enabled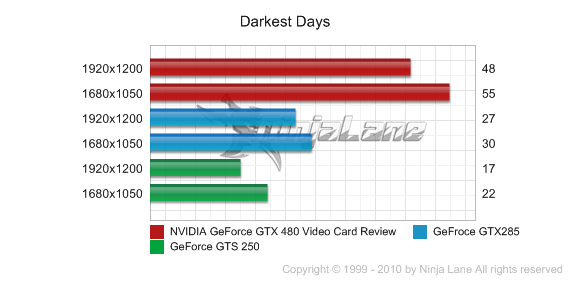 PhysX and the drivers have been getting much better since we published out
PhysX Performance article here at Ninjalane
.
The new GTX 480 not only makes Darkest of Days playable with high resolution but almost doubles the performance.
Batman: Arkham Asylum
We tested this game with all of its settings turned up to the max and with anti-aliasing set at 8x. The PhysX portion was turned up to max to make sure no single single card had an unfair advantage.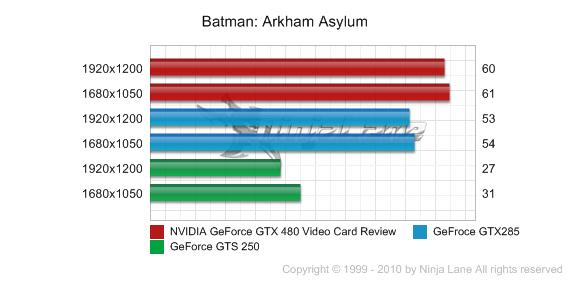 Batman has a limit cap on the frames per second, but the GTX 480 allows us to see this. With only a small lead over the GTX 285 and a large jump over the GTS 250 the GTX 480 is top dog here.
Metro 2033
The Metro 2033 PhysX test settings on this benchmark for both cards are set to DirectX 10, Anti-Aliasing AAA, and Anisotropic 16x. PhysX is enabled for this testing to make it a level playing field and the rest of the settings are below.

1920x1200 - High Quality
1680x1050 - High Quality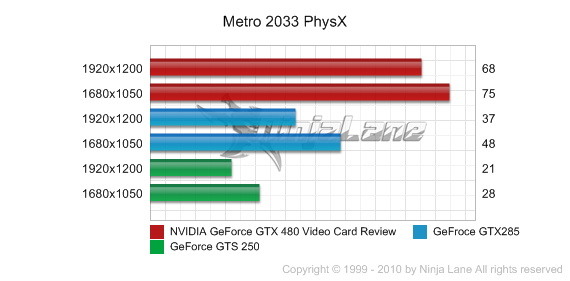 The newest PhysX title to hit the streets is Metro 2033. With a level playing field we can see the GTX 480 pull way ahead of the older cards and clearly doubling overall performance. Combine that with full DirectX 11 features and you have found the true power of the GTX 480.