After careful consideration I have decided to transfer all hardware review activities to a new domain. I purchased Hardwareasylum.com in 2012 and have been working hard to build a new and improved Ninjalane on that domain. If you are reading this you have reached one of the archived articles, news, projects and/or reviews that were left behind during the site migration.
Please update your bookmarks and be sure to visit the new and improved Ninjalane at Hardwareasylum.com
NVIDIA GeForce GTX 480 Video Card Review
Author:

Will West
Published:
Friday, March 26, 2010

Overclocking
Overclocking is an art form that is practiced not only on CPU, but on the GPU as well. We like to see what potential a graphics card has locked inside just waiting to be unleashed to the masses. A side benefit to overclocking is better scores, smoother gameplay, and sometimes records on certain overclocking websites.

So let's check out what the GeForce GTX 480 has left in it to be unleashed.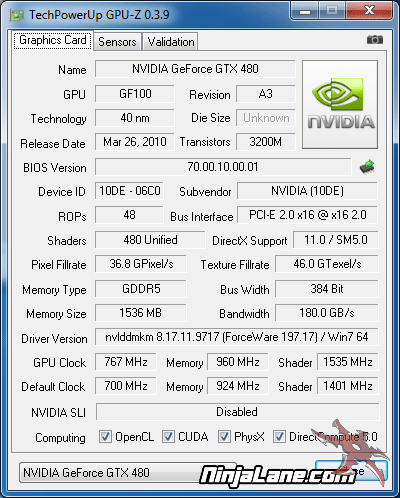 As we can see there is still more room to play with on the GTX 480 over the default clocks. With a healthy boost to the Shader clocks we can always see a good return on that one. We are sure there is plenty potential left, but the temperatures were getting a little to toasty on air for our liking. So we had to draw the line somewhere.

The extra performance is good and let's see if it noticeable in a couple games.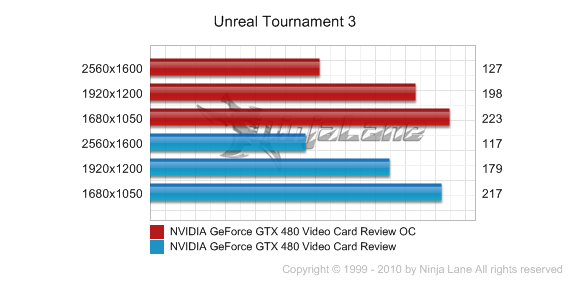 Unreal tournament always show us if we are getting any return for our overclocking. Across all of the resolutions we see some good jumps in performance out of the GTX 480.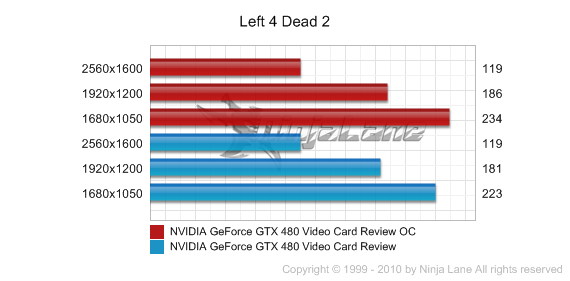 We sometimes get the strangest results from Left 4 Dead 2, and that comes in the form of frame caps. We have seen it happen on the Radeon HD 5870 review and once again it happens here on the GeForce GTX 480 review. The 2560x1600 resolution seems to be stuck at 119FPS.

Aside from that we have a healthy jump in frame rate across the other resolutions, and in the end this is always good.