After careful consideration I have decided to transfer all hardware review activities to a new domain. I purchased Hardwareasylum.com in 2012 and have been working hard to build a new and improved Ninjalane on that domain. If you are reading this you have reached one of the archived articles, news, projects and/or reviews that were left behind during the site migration.
Please update your bookmarks and be sure to visit the new and improved Ninjalane at Hardwareasylum.com
Introducing the Multi-GPU Index
Introducing the Multi-GPU Index
Author:

Dennis Garcia
Published:
Thursday, December 02, 2010
DFI LanParty DK 790FXB
Multi-GPU Scorecard
Index: 6.50
Optimized: 2x
Max Support: 3x
LanParty is a brand name that helped launch enthusiast level motherboards into the mainstream market with the simple idea that the vocal minority can actually sway public opinion. In fact enthusiast sites like Ninjalane (and others) helped make LanParty motherboards a household name. Sadly, its popularity was also its downfall. The enthusiast public wanted the latest products right away, and while DFI tinkered and tuned their designs to the highest possible standards, the Teir 1 mobo makers were able to get competing products launched much faster and saturate the market. By the launch of the 790FXB the writing was on the wall and DFI was on its way out of the consumer retail channel.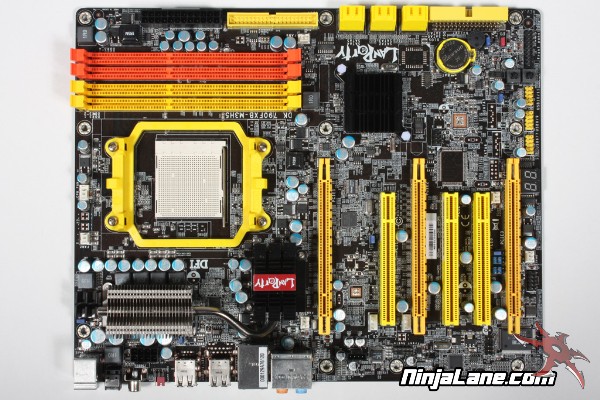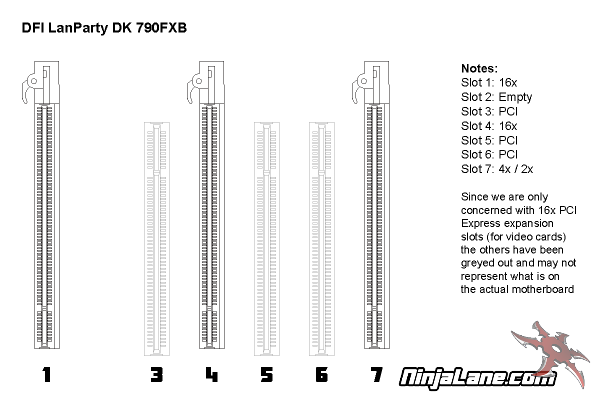 Do good things come to those who wait? According to the Multi-GPU Index they do. There are three PCI Express slots available on this motherboard and all three can support full length video cards. Slot one and four are both hardwired to full 16x bandwidth while slot seven is manually selectable to be either 4x or 2x. The overall layout is obviously configured for dual card operation but three way configurations are possible.