After careful consideration I have decided to transfer all hardware review activities to a new domain. I purchased Hardwareasylum.com in 2012 and have been working hard to build a new and improved Ninjalane on that domain. If you are reading this you have reached one of the archived articles, news, projects and/or reviews that were left behind during the site migration.
Please update your bookmarks and be sure to visit the new and improved Ninjalane at Hardwareasylum.com
Introducing the Multi-GPU Index
Introducing the Multi-GPU Index
Author:

Dennis Garcia
Published:
Thursday, December 02, 2010
Gigabyte X58A-UD3R
Multi-GPU Scorecard
Index: 4.24
Optimized: 2x
Max Support: 4x
Gigabyte segments their products using the Ultra Durable "X" indicator with the number "3" being the lowest on the list. The funny thing is, much like with other manufactures, the lower end products usually mirror the high-end in terms of board layout.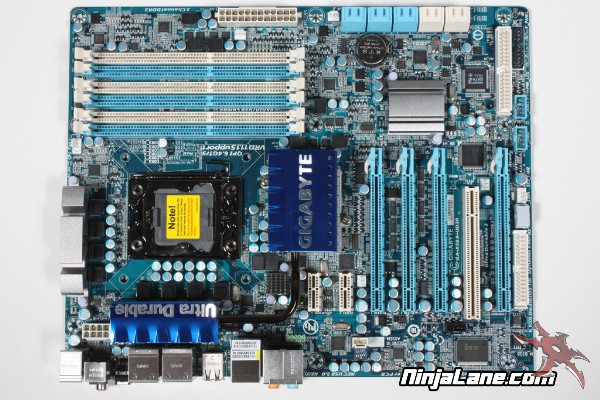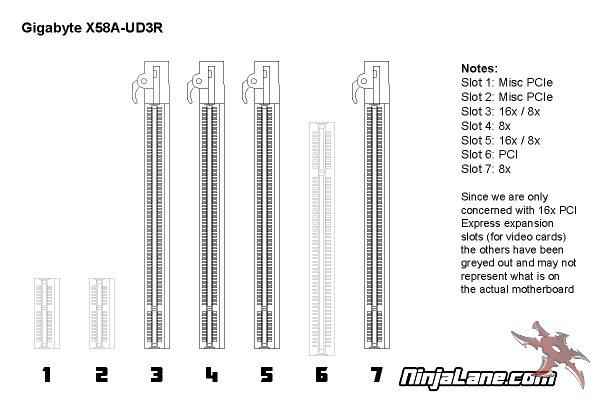 The chart indicates a very interesting slot layout with two distinct groupings with slots three and four sharing bandwidth along with slots five and seven. This would indicate that the board is optimized for both dual and quad card configurations. Triple card configurations are suggested, based on the included triple SLI bridge. However, a single slot cooler is a must.