After careful consideration I have decided to transfer all hardware review activities to a new domain. I purchased Hardwareasylum.com in 2012 and have been working hard to build a new and improved Ninjalane on that domain. If you are reading this you have reached one of the archived articles, news, projects and/or reviews that were left behind during the site migration.
Please update your bookmarks and be sure to visit the new and improved Ninjalane at Hardwareasylum.com
Introducing the Multi-GPU Index
Introducing the Multi-GPU Index
Author:

Dennis Garcia
Published:
Thursday, December 02, 2010
EVGA X58 SLI LE
Multi-GPU Scorecard
Index: 5.25
Optimized: 1x
Max Support: 4x
EVGA gives their low end products the LE badge but aside from the scaled down cooling features and small PWM it is very enthusiast friendly. The PCI Express layout is pretty straight forward. There are a total of five PCI-E slots on the board, four of which can handle full length video cards.

Unlike other X58 motherboards the SLI LE comes with a hardwired layout meaning that what you see is what you get. The topmost slot is 16x whereas slots three and six are configured at 8x each. Much to our surprise slot five comes in at only 4x. EVGA provides SLI bridges for 3-way SLI using either the 1-3-5 or 1-3-6 slot combo. If you choose the 1-3-6 you will find slot five to be open for and additional PCI Express device (PhsyX, RAID, etc)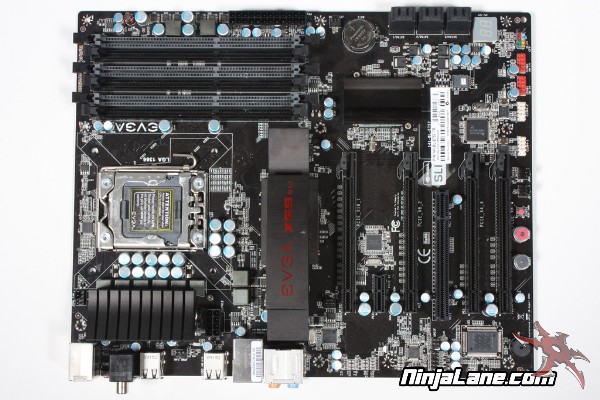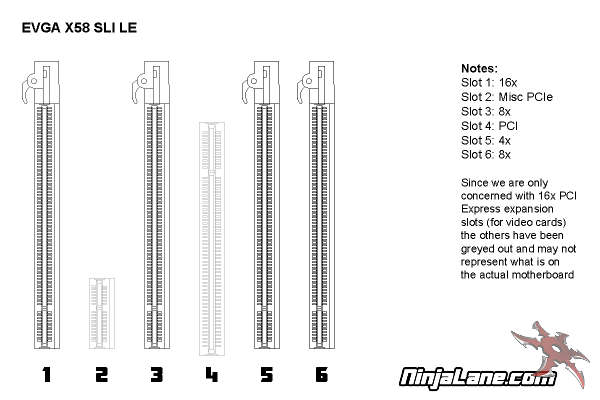 The available slot layout indicates that the SLI LE is indeed able to handle triple card configurations. However, to get the most from the system, it will need to remain on an open-air test bench or use single slot coolers. Because of this and the hardwired nature of the PCI Express slots the board is only optimized for single card operation.