After careful consideration I have decided to transfer all hardware review activities to a new domain. I purchased Hardwareasylum.com in 2012 and have been working hard to build a new and improved Ninjalane on that domain. If you are reading this you have reached one of the archived articles, news, projects and/or reviews that were left behind during the site migration.
Please update your bookmarks and be sure to visit the new and improved Ninjalane at Hardwareasylum.com
Palit GeForce GTS 250 Video Card Review
Author:

William West
Published:
Tuesday, March 03, 2009

Mirrors Edge
Mirrors Edge is a newer game with a very different take on the First Person Shooter genre. The reason is that the main character rarely uses a firearm to take out the enemies but instead uses speed and "free running" tactics to get around. Mirrors Edge is a very fast moving game with acrobatic stunt jumping from rooftop to rooftop. The graphics are just absolutely stunning with a true DirectX 10 support.
Mirrors edge was tested using everything turned up high and 8x Anti-Aliasing, and with 16x Anisotropic. Mirrors Edge is placed mainly on top of roofs with lots of hard straight lines that need lots of anti-aliasing in order to keep the jaggedness from looking just horrible.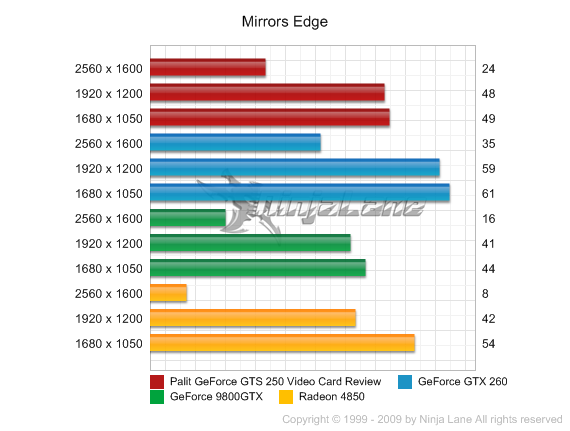 The flow of Mirrors Edge is very smooth and even dipping under the 30FPS threshold does not seem to make the game a bad experience unless it gets too far. The GTS 250 shows how much more power it has over the older 9800GTX, but still falls behind the GTX 260 by a large margin. The Radeon 4850 suffered throughout the testing with not being able to handle the Anti-Aliasing settings.
Mirrors Edge is the newest game in the PhysX arena and unlike some other games it does not become anything different with PhysX enabled aside from some additional eye candy.

With PhysX enabled the graphic cards across the board take a major hit. The Palit GTS 250 is still able to hold the frames up for a great gaming experience with PhysX enabled and the eye candy is well worth the hit on the frames. The PhysX stuff gives the game a more natural feel and better gaming experience.