After careful consideration I have decided to transfer all hardware review activities to a new domain. I purchased Hardwareasylum.com in 2012 and have been working hard to build a new and improved Ninjalane on that domain. If you are reading this you have reached one of the archived articles, news, projects and/or reviews that were left behind during the site migration.
Please update your bookmarks and be sure to visit the new and improved Ninjalane at Hardwareasylum.com
Palit GeForce GTS 250 Video Card Review
Author:

William West
Published:
Tuesday, March 03, 2009

Crysis Warhead
Crysis Warhead is the same game as the first Crysis just being told from the point of view of another soldier named Psycho. The character Psycho is on an island just off the coast of China fighting against North Koreans, and some rather cold hearted aliens. Crysis warhead is a fully fledged DirectX 10 game that has no mercy on any graphics card to date.
Testing was done on the last level in the Crysis with all setting turned to Gamer.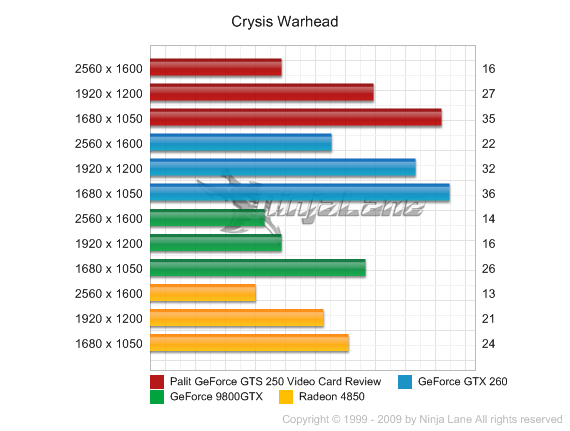 The wrath of Crysis shows no mercy on any of the cards at the 2560 x 1600 resolution. The Palit GTS 250 fared well in lower resolution with a game that can be forgiving if frames drop below the 30FPS threshold. The Palit GTS 250 shows just how much more power it has over the 9800GTX with this game partially due to the larger framebuffer. The strain that Crysis puts on cards it showed through when it comes to the GTX 260 which has almost identical performance.