After careful consideration I have decided to transfer all hardware review activities to a new domain. I purchased Hardwareasylum.com in 2012 and have been working hard to build a new and improved Ninjalane on that domain. If you are reading this you have reached one of the archived articles, news, projects and/or reviews that were left behind during the site migration.
Please update your bookmarks and be sure to visit the new and improved Ninjalane at Hardwareasylum.com
Palit GeForce GTS 250 Video Card Review
Author:

William West
Published:
Tuesday, March 03, 2009

F.E.A.R. 2
"Don't Fear the Reaper", but FEAR Alma for she is back. FEAR 2 take place a few minutes right after the first one left off after the nuclear explosion. This time the player is a different person on a different team working through the messed up world of a telepathic psycho killer. This is one of the best survival horror type games to ever hit the PC.
Going from the beginning of the game and playing through with the setting all turned up to maximum. Anti-Aliasing was turned up to 2x and Anisotropic was turned up to 16x for a great overall quality gaming experience.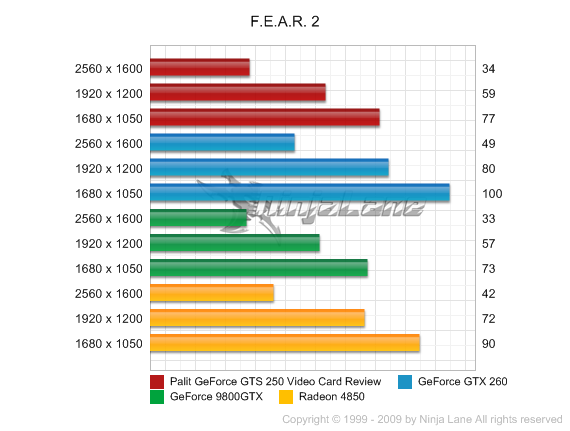 FEAR 2 is based around DirectX 9 and shows that it has no problem being played at max with all kinds of video cards. GTS 250 and the 9800GTX are just neck and neck with each. Mark one up for the Radeon 4850 for being able to hold its own in this benchmark but at the end of the day even at 2560 x 1600 the GTS 250 will make for a great smooth gaming experience.