After careful consideration I have decided to transfer all hardware review activities to a new domain. I purchased Hardwareasylum.com in 2012 and have been working hard to build a new and improved Ninjalane on that domain. If you are reading this you have reached one of the archived articles, news, projects and/or reviews that were left behind during the site migration.
Please update your bookmarks and be sure to visit the new and improved Ninjalane at Hardwareasylum.com
Palit GeForce GTS 250 Video Card Review
Author:

William West
Published:
Tuesday, March 03, 2009

Call of Duty 4
Call of Duty 4 is set in modern times with a conflict in the Middle East and parts of Eastern Europe. The game is a very fast moving intense ride of pure all out gun and run kind of action. COD4 never gives the ability to sit back and think. The game known for its incredible single player story line, and its strong online multiplayer community. Technology wise COD4 is based on DirectX 9 technology and really show that game developer can still make incredible graphics from the older API.
COD4 was testing running through "The Bog" level with all setting maxed out. Anti-Aliasing was set to 4x, and Anisotropic was set to 16x. V-Sync was turned off and bodies were set to medium.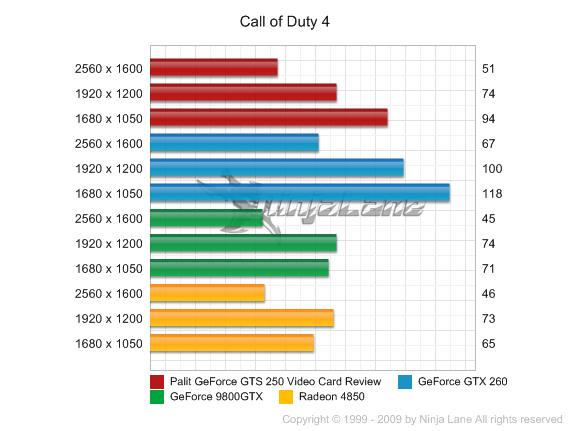 COD4 does not really make any card sweat to hard in this round of testing, the older DirectX 9 game engine is no match for today's graphic cards. With even extremely high resolutions the GTS 250 makes for a great gaming experience and beats the older 9800GTX on all grounds without too much effort. For the Radeon 4850 is gets beating from top to bottom and never has a chance to match the GTS 250.

Editor Note: The testing of the 1680 x 1050 resolution for the 9800GTX and the Radeon 4850 resulted with some strange numbers. The tests were rerun many times just to keep showing a lower average frame rate then in 1920 x 1200 resolutions. We have no real answer on this one. Sorry Guys!